Differential human gut microbiome assemblages during soil-transmitted helminth infections in Indonesia and Liberia
Received: 17 July 2017
Accepted: 26 January 2018
Published: 28 February 2018
Abstract
Background
The human intestine and its microbiota is the most common infection site for soil-transmitted helminths (STHs), which affect the well-being of ~ 1.5 billion people worldwide. The complex cross-kingdom interactions are not well understood.
Results
A cross-sectional analysis identified conserved microbial signatures positively or negatively associated with STH infections across Liberia and Indonesia, and longitudinal samples analysis from a double-blind randomized trial showed that the gut microbiota responds to deworming but does not transition closer to the uninfected state. The microbiomes of individuals able to self-clear the infection had more alike microbiome assemblages compared to individuals who remained infected. One bacterial taxon (Lachnospiracae) was negatively associated with infection in both countries, and 12 bacterial taxa were significantly associated with STH infection in both countries, including Olsenella (associated with reduced gut inflammation), which also significantly reduced in abundance following clearance of infection. Microbial community gene abundances were also affected by deworming. Functional categories identified as associated with STH infection included arachidonic acid metabolism; arachidonic acid is the precursor for pro-inflammatory leukotrienes that threaten helminth survival, and our findings suggest that some modulation of arachidonic acid activity in the STH-infected gut may occur through the increase of arachidonic acid metabolizing bacteria.
Conclusions
For the first time, we identify specific members of the gut microbiome that discriminate between moderately/heavily STH-infected and non-infected states across very diverse geographical regions using two different statistical methods. We also identify microbiome-encoded biological functions associated with the STH infections, which are associated potentially with STH survival strategies, and changes in the host environment. These results provide a novel insight of the cross-kingdom interactions in the human gut ecosystem by unlocking the microbiome assemblages at taxonomic, genetic, and functional levels so that advances towards key mechanistic studies can be made.
Keywords
Helminth
Nematode
Microbiota
Metagenome
Parasite
Intestine
16S rRNA gene
Background
The gut microbiota of healthy older children and adults is complex but relatively stable in composition and function [1]. The gut microbiota has a large impact on human physiology, and has been demonstrated to modulate immune function, growth [2–4], metabolism, and overall health [5]. Helminths that reside in the gut can directly affect the immune system [6–8] or can indirectly influence the immune system through their effects on the gut microbiota and on the intestinal mucosa. Children are often exposed to helminth infections prior to the stabilization of their microbiota (up to 42% by 3 years of age [9]), increasing the risk of a lifetime disruption of normal microbial community development that can lead to long-term dysbiosis (possibly due to a reduced ability to extract nutrients from food for host absorption) [10]. Understanding the detailed relationship between helminths and the microbiota will provide important insights into how to reduce the negative impacts of helminth infection through simple nutritional strategies to supplement anthelminthic treatment as an integrated therapeutic tool [10]. However, little is known about the interactions between bacteria, the most prevalent soil-transmitted helminths (STHs; hookworms (Necator americanus and Ancylostoma duodenale], large roundworm [Ascaris lumbricoides], and whipworm [Trichuris trichiura]), and the human gut.
The massive number of infected individuals (1.5 billion), constant reinfections, highly variable drug efficacies, and disappointing treatment success rates for some species (e.g., whipworms [11]) make STHs one of the most important causes of chronic morbidity in the world. Despite massive efforts to control STHs [12], their prevalence remains high because of high rates of reinfection (i.e., 94, 82, and 57% for Ascaris, whipworm and hookworm, respectively; [13]). Furthermore, drug resistance (frequently against all three classes of anthelmintics) is common in veterinary helminthes [14], and resistance to montepantel (the latest anthelmintic introduced to the market) arose within 4 years of its release [15]). These problems of drug resistance may eventually pose a risk in humans [16]. This is especially important since according to WHO recommendations, the current target is to reduce moderate and heavy infections to less than 1% among school children [17], requiring high treatment coverage and increasing the selection for drug resistance in human nematode populations. Therefore, developing an integrated and sustainable STH management strategy for humans is urgently needed. Given recent progress in microbiome-driven therapeutics [18], gut bacterial genomics could offer insights that have eluded decades of mechanism-based and classic pharmacologic approaches to treatment, and may present opportunities for enhancing deworming efforts and understanding helminth-microbiome interactions.
The role of commensal bacteria in STH infections is not well understood, but it is recognized that active cross-kingdom talk exists (mainly based on animal studies, e.g., [19–25]), However, studies in humans have been very limited to date, with only two published cross-sectional studies [26, 27]. In addition, results from these studies were inconsistent. The study from Ecuador did not identify any association between STHs and the fecal microbiome [27] while the study from Malaysia found significantly higher microbiota richness in feces from humans with whipworm infections [26]. More studies are needed to determine if this discrepancy is related to confounding factors, such as the different geographical regions, different helminth species, the depth of sequencing, or the platform used (2 k 454/Roche vs. 19 k Illumina reads per sample). Overall, it has been noted that strong conclusions about the nature of helminth interactions with the gut microbiome have been limited by the small number of studies, variations in sampling and analysis techniques, and small sample sizes within each study [28].
Here, we greatly expand on the existing knowledge of interactions between the human gut microbiome and STHs by precisely defining the microbial ecology underlying the STH infections in two very distinct geographic regions (Liberia and Indonesia) and identifying conserved STH-associated taxa despite the very different gut microbiome structure among individuals from these regions. To determine the association among the STHs and the gut microbiome, we considered only moderately/heavily infected and uninfected individuals (with precisely-quantified infection status). We successfully identified bacterial taxa positively and negatively associated with single and/or multiple worm infections. Furthermore, we compared the longitudinal changes in microbiomes from a double-blind randomized trial, identifying bacterial taxa that respond to deworming, while taking the time and treatment effects into consideration. Reconstruction of the metabolic pathways of the microbial communities on a subset of the longitudinal samples revealed functions differentially affected by deworming. The results provide novel (and much more comprehensive) understanding of the cross-kingdom interactions and provide a solid foundation for designing experiments to determine mechanistic insight of these interactions during infections and after deworming.
Results
Our sample set included 402 fecal samples from 250 individuals from different villages in Liberia (
n
 = 98; Table
1
, Additional file
1
: Table S1) and Indonesia (
n
 = 304; Table
1
, Additional file
2
: Table S2). All samples were sequenced using targeted metagenomics (V1 V3 hypervariable region of 16S rRNA gene), and relevant sample set comparisons discussed below are shown in Fig.
1
. A subset of samples (
n
 = 24; Additional file
3
: Table S3) were sequenced using a metagenomic shotgun approach. The STH species endemic in the studied areas included
Ascaris lumbricoides
("
Ascaris
"),
Necator americanus
("
Necator
"), and
Trichuris trichiura
("
Trichuris
"). Other intestinal helminths such as
Ancylostoma duodenale
,
Enterobius vermicularis
, or
Strongyloides stercoralis
were not detected in the study population.
Table 1
Characteristics of 16S samples from Liberia and Indonesia
Category

Country of origin

Liberia

Indonesia

2008

2010

Total Number of samples

98

152

152

Number of villages sampled

8

3

3

Sex of individuals

Male

45

68

84

Female

53

68

84

Age of individuals

Average

26

27

29

Median

17.5

28

30

Min. (90th percentile)

6

6

8

Max (90th percentile)

59

49

51

Nematode presence* according to qPCR (< 28CT)

Ascaris

18

23

18

Necator

8

32

15

Trichuris**

1

42

34

Any Infection

26

78

50

Multiple infections

4

16

14

Zero infection

48

43

83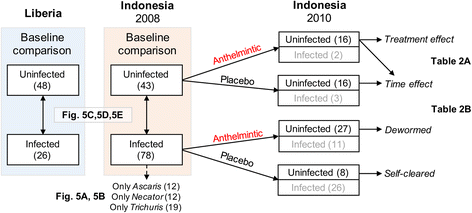 Discussion
We focused on identifying and validating biologically meaningful associations between STH infections and the gut microbiota and its functional potential by (a) comparing the fecal microbiome of moderately/heavily STH- infected individuals to uninfected individuals (detected by qPCR for increased sensitivity), (b) validating the findings using subjects from a distinct geographical cohort, (c) identifying conserved STH-associated and STH-discriminatory taxa, (d) delineating microbiome assemblage changes as a result of de-worming/self-clearing, and (e) identifying microbiome-encoded biological functions associated with STH-infected individuals. While answering these questions using several comparisons between multiple cohorts (Fig. 1), technical aspects were also considered to understand how study design, diagnostic accuracy, precise STH burden estimation, and depth of coverage affect optimal profiling of the microbiome.
Compared to Liberia which was dominated by Prevotella, the microbiomes from Indonesia individuals were comparatively highly variable and diverse, providing a distinct microbiome background for cross-cohort comparison. Comparisons of the specific taxa significantly associated with STHs in both countries (Fig. 6c) showed that Lachnospiraceae incertae sedis was the only consistently negatively associated genus, and the most significant positively associated genera were Olsenella (previously associated with reduced gut inflammation and multiple sclerosis symptoms when administered as a probiotic [48] and associated with lean individuals compared to obese individuals [49]), Flavonifractor (increased in the gut microbiome with systemic lupus erythematosus [50]), and Enterococcus (previously found to be increased in cats infected with Toxocara cati [51]). Another significant positively associated genus, Allobaculum, has been previously associated with gut inflammation [52] (with an elimination of this genera in mouse gut models with high inflammation [53]), and has been associated with weight reduction and negatively correlated with leptin and the inflammation marker Slc25a25 in mice, suggesting an important role in host energy balance and intestinal responses [54].
Altogether, 7 of the 12 taxa increased with infection in both countries belonged to the Firmicutes phylum, including four genera from the Clostridales order. In our independent analysis of the previously published Ecuador dataset [27], all 7 individual taxa positively associated with STH infection in Ecuador belonged to the phylum Firmicutes, highlighting the association of this phylum with helminth infection. Most notably, the family Lachnospiraceae was significantly lower in infected samples in Ecuador (P = 0.037), and this was also one of just two taxa significantly lower in infected individuals in both Liberia and Indonesia (Fig. 4b). Lachnospiraceae, a common gut bacteria, has previously been linked to obesity and protection from cancer (due to its production of butyric acid, important for both microbial and host epithelial cell growth [55]) and was previously associated with modulating inflammation during the blood-feeding nematode Haemonchus contortus infections [24]. Thus, we identify the robust existence of STH-associated taxa that are consistent across broad geographical regions representing Africa, Asia, and America. In future research, the results may be further improved by using consistent techniques/parameters for infection quantification, cut-offs for infection level, matching controls, hypervariable rRNA gene region, and sequencing platform.
The LEfSe and RF approaches identify many of the same microbiota members as being significantly positively associated with STH infection in both geographical regions and with being discriminatory in the RF analysis, including: Olsenella, Allobaculum, and other members of Allobaculum's family Erysipelotrichaceae, including positive associations with Solobacterium (negatively correlated with the production of connexin-43, involved in intestinal repair). This family has been found to be negatively associated with the flatworm Opisthorchis viverrini infection in hamsters [56], but here we identify both positive and negative associations with different genera from the family. Both Olsenella and Allobaculum have been previously associated with a reduction in gut inflammation [44, 53], suggesting that their association with STH infection may potentially have positive side effects on the host gut health. In the present study, for the first time, we demonstrate consistent STH-associated microbiome taxa across distinct geographical regions that helped us to successfully predict infectious status based on microbiome structure. In future studies, the predictive value of this model can be improved by increasing power obtained via sampling larger cohorts with a higher number of individuals harboring single-species infections and multiple-species infections. In addition, the existence of potentially functionally related taxa associated with STH infection (Fig. 6e, f) provides a precedent for further efforts focused on experimental testing synthetic communities of limited size.
Three taxa were higher as a result of deworming including Clostridium_XVIII (genus), which was also significantly less abundant in infected individuals at the 2008 baseline in Indonesia (P = 0.03) and less abundant, but not significantly (P = 0.08), in Liberia, indicating that this genus is both higher in infected individuals and reduced after deworming (Additional file 5: Table S5), making it an interesting candidate for future study. Four additional taxa were lower following deworming, including Butyricimonas, which is a butyrate-producing bacteria and butyrate is a potential inhibitor of inflammation, as discussed in the previous H. contortus microbiome study in goats [24]. Overall, microbiome assemblages of dewormed individuals still more closely resemble their corresponding infected status than the microbiome assemblages of the uninfected individuals. This is in contrast with the mice whipworm T. suis studies where clearance of infection resulted in gradual transitioning of the microbiome in an uninfected state [57]. Among self-cleared individuals (i.e., "dewormed" but without anthelmintic treatment), 8 taxa were significantly differentially abundant compared to de-wormed individuals and uninfected individuals (Table 2(E and F)), most notably Olsenella, which was significantly reduced over time in individuals who self-cleared (P = 0.014) and was the most significantly positively associated with infection in both Liberia and Indonesia, providing further evidence of this genus' important association with STH infection.
Metagenomic shotgun (MS) sequencing was performed to obtain the species level resolution of the microbiome from 24 stool samples and provides (for the first time) strain level accuracy of the associated taxa. Genetic potential of the microbial communities was evaluated by mapping the MS reads to a comprehensive gut bacteria reference gene catalog database for representative samples from Liberia, Indonesia, and the USA (Fig. 7b), and this analysis suggested that different gene sets perform similar functions between the three countries, with a stronger conservation between Liberia and Indonesia. The read sequence data generated by this study provides a valuable resource for characterizing novel bacterial strains and biological functions unique to these resource-poor and under-sampled regions of the world.
In a separate analysis of the MS data against the Integrated Gene Catalog (IGC) OG differential expression, 114 and 80 OGs were identified as statistically higher and lower after deworming, respectively, but not differential over time among infected individuals (Fig. 7d; Additional file 3: Table S3). The OGs most significantly higher after deworming included "monovalent cation H antiporter subunit F" (possibly involved with drug transport [58]), and the most significantly lower after deworming (higher during infection) included "Macrocin-O-methyltransferase" (involved in the synthesis of an antibiotic that targets gram positive bacteria [59]). Interestingly, different "Fimbrial protein" OGs were significantly both higher and lower after curing, suggesting a consistent change in the types of fimbrial proteins, rather than an increase or decrease.
Only one previous study [26] has examined the metabolic potential of the fecal microbiome of STH-infected and uninfected individuals (identifying whipworm a primary driver of the overall differences), but this was not based on MS data, but rather on predicted microbial functions through inference from 16S-based microbiota profiling (using PICRUSt [60]). Here, HUMAnN [47] was used to reconstruct the metabolic pathways of the 20 Indonesia MS datasets, and pathway enrichment was performed. The only significantly enriched KEGG pathway among the metagenomes of STH-infected samples was "arachidonic acid metabolism" (ko0059; Fig. 7e). Arachidonic acid is the precursor for pro-inflammatory leukotrienes that threaten helminth survival, and previous studies have shown that a wide range of helminth species secrete products to modulate arachidonic acid and leukotriene activity [61], and arachidonic acid has also been successful as an anthelmintic treatment for Schistosoma infections in mice [62]. Here, we present the first evidence that some modulation of arachidonic acid activity in the STH-infected intestine may occur through the increase of arachidonic acid metabolizing bacteria.
The only KEGG Orthology (KO) category significantly enriched among the microbiomes of STH-infected individuals was "thymidylate synthase" (K00560), an essential enzyme for DNA synthesis with no clear function for supporting helminth infection. A total of 11 KOs were significantly depleted among STH-infected individuals (Table 3; top four visualized in Fig. 7f). These included (i) "RNA Polymerase Sporulation-Specific Sigma Factor" (K03091) and "spore coat protein JC" (K06334), suggesting a reduction in spore-forming bacteria in association with STH infections, as well as "cysteine desulfurase" (K04487) and "ferrous iron transport protein B" (K04759), both of which are important for cellular iron homeostasis [63, 64]. These categories may be reduced due to more readily available iron from blood in the intestine, released while the hookworm attaches on the lining of the intestinal wall to feed on blood. Overall, the MS analysis offers a more detailed view of specific microbiome-encoded functions which are associated with STH infection.
Conclusions
Specific microbiome assemblages are significantly associated with STH infection, and specific members of the gut microbiome discriminate between moderately/heavily STH-infected and non-infected states across very diverse geographical regions using two different statistical methods. Microbiome-encoded biological functions associated with the STH infections were identified, which are associated with STH survival strategies and changes in the host environment. These results provide a novel insight of the cross-kingdom interactions in the human gut ecosystem by revealing STH-associated microbiome assemblages at taxonomic, genetic, and functional levels, so that advances towards key mechanistic studies can be made.
Declarations
Acknowledgements
The authors like to thank the field teams in Indonesia and Liberia for their help during stool sample collection and parasitological examination.
Funding
Data generation was supported by National Institute of Health NHGRI grant number U54HG003079 and data analysis by National Institute of Health NIAID grant number AI081803-06A1. Field work in Liberia was supported by a grant of the Bill & Melinda Gates Foundation (GH5342). The findings and conclusions contained within are those of the authors and do not necessarily reflect positions or policies of the funders. The funders had no role in data collection and analysis, had no role in decision to publish, and contributed in the writing of the manuscript.
Availability of data and materials
The datasets generated during the current study are available at the NCBI's Sequence Read Archive (SRA) accession numbers: SAMN07688522 to SAMN07688545. The ~ 4 million 16S assembled sequences from all the Liberia and Indonesia samples are also available for download from Nematode.net (Nematode.net/Microbiome.html).
Authors' contributions
MM, MY, and PUF designed the study. PUF, KF, LG, FKB, and YD collected and processed samples. KF and LG performed qPCR analysis. JM processed and mapped 16S rRNA and MS reads. BAR and RT conducted the microbiome analyses and prepared figures and tables. BAR analyzed the data overall. BAR and MM wrote the manuscript. All authors read, edited, and approved the final manuscript.
Ethics approval and consent to participate
Metagenomic sequencing was performed using de-identified stool samples. The study was approved by the Institutional Review Boards at Washington University School of Medicine in St. Louis, at the University of Liberia, Monrovia (responsible for the Liberian Institute for Biomedical Research), and at the Ethical Committee for Research of the University of Indonesia, Jakarta.
Consent for publication
Not applicable.
Competing interests
The authors declare that they have no competing interests.
Publisher's Note
Springer Nature remains neutral with regard to jurisdictional claims in published maps and institutional affiliations.
Open AccessThis article is distributed under the terms of the Creative Commons Attribution 4.0 International License (http://creativecommons.org/licenses/by/4.0/), which permits unrestricted use, distribution, and reproduction in any medium, provided you give appropriate credit to the original author(s) and the source, provide a link to the Creative Commons license, and indicate if changes were made. The Creative Commons Public Domain Dedication waiver (http://creativecommons.org/publicdomain/zero/1.0/) applies to the data made available in this article, unless otherwise stated.
Authors' Affiliations
(1)
McDonnell Genome Institute, Washington University, St. Louis, USA
(2)
Department of Parasitology, Faculty of Medicine, Universitas Indonesia, Jakarta, Indonesia
(3)
Public Health and Medical Research, National Public Health Institute of Liberia, Charlesville, Liberia
(4)
Department of Parasitology, Leiden University Medical Center, Leiden, The Netherlands
(5)
Microbial Genomics, The Jackson Laboratory for Genomic Medicine, Farmington, USA
(6)
Department of Medicine, Washington University School of Medicine, St. Louis, USA