Fine metagenomic profile of the Mediterranean stratified and mixed water columns revealed by assembly and recruitment
Received: 29 March 2018
Accepted: 2 July 2018
Published: 10 July 2018
Abstract
Background
The photic zone of aquatic habitats is subjected to strong physicochemical gradients. To analyze the fine-scale variations in the marine microbiome, we collected seven samples from a single offshore location in the Mediterranean at 15 m depth intervals during a period of strong stratification, as well as two more samples during the winter when the photic water column was mixed. We were able to recover 94 new metagenome-assembled genomes (MAGs) from these metagenomes and examine the distribution of key marine microbes within the photic zone using metagenomic recruitment.
Results
Our results showed significant differences in the microbial composition of different layers within the stratified photic water column. The majority of microorganisms were confined to discreet horizontal layers of no more than 30 m (stenobathic). Only a few such as members of the SAR11 clade appeared at all depths (eurybathic). During the winter mixing period, only some groups of bloomers such as Pseudomonas were favored. Although most microbes appeared in both seasons, some groups like the SAR116 clade and some Bacteroidetes and Verrucomicrobia seemed to disappear during the mixing period. Furthermore, we found that some microbes previously considered seasonal (e.g., Archaea or Actinobacteria) were living in deeper layers within the photic zone during the stratification period. A strong depth-related specialization was detected, not only at the taxonomic level but also at the functional level, even within the different clades, for the manipulation and uptake of specific polysaccharides. Rhodopsin sequences (green or blue) also showed narrow depth distributions that correlated with the taxonomy of the microbe in which they were found but not with depth.
Conclusions
Although limited to a single location in the Mediterranean, this study has profound implications for our understanding of how marine microbial communities vary with depth within the photic zone when stratified. Our results highlight the importance of collecting samples at different depths in the water column when comparing seasonal variations and have important ramifications for global marine studies that most often take samples from only one single depth. Furthermore, our perspective and approaches (metagenomic assembly and recruitment) are broadly applicable to other metagenomic studies.
Keywords
Photic zone
Deep chlorophyll maximum
Mediterranean
Stratification
Stenobathic
Background
Stratified systems are widespread on Earth, from microbial mats to meromictic lakes and the temperate ocean. A common factor of all stratified systems is strong vertical physicochemical gradients [1, 2]. The large scale of the oceanic environment makes the upper 100 m seem relatively small. Nevertheless, this layer of the water column is one of the most biologically productive microbial habitats in the biosphere [3]. The open ocean is far from homogenous, and environmental conditions are strongly affected by the depth in the water column [4, 5]. As the depth increases, temperature declines, salinity increases, and the availability of nutrient dwindles. Among these factors, light attenuation is of paramount importance. The main divide in aquatic environments tends to be between the photic zone, where light allows for photosynthesis, and the aphotic zone, which is beyond the compensation depth and where the available light (if any) is insufficient to drive photosynthesis. The availability of light is critical for primary productivity and hence is the main limiting factor for organic matter production throughout the water column [6]. The differences in the microbiome between the photic and aphotic zones are well known using a variety of approaches [4, 7–9]. Studies at global ocean scales such as those derived from the Sorcerer II Global Ocean Sampling [10] or the more recent Tara Oceans expedition [11] have provided essential information on the composition, dynamics, and spatial distribution of surface ocean microbial communities. However, much less attention has been devoted to the differences in the vertical distribution of microbial communities. This lack of attention is particularly true of the microbial assemblages within the photic zone, where samples from a single depth are often considered representative of the complete photic water column. However, most offshore oceanic waters are permanently or seasonally stratified, sometimes as deep as hundreds of meters, which creates strong gradients of environmental parameters.
In the Mediterranean, the water column is seasonally stratified, typically from March to November. A characteristic and extensively studied phenomenon associated with this stratification is the formation of the deep chlorophyll maximum (DCM) [1], a maximum in chlorophyll concentration that is associated with an increase in bioavailable pools of nitrogen (N) and phosphorus (P) diffusing from the mixed layer below the seasonal thermocline [12]. In tropical waters, the DCM is a permanent feature, whereas in the Mediterranean and other temperate waters, the DCM is a seasonal phenomenon [13] that often appears between 45 and 70 m deep [14], depending on the degree of light penetration (dictated by the season of the year and biological productivity).
During late autumn and winter, the temperature decrease near the surface leads to vertical mixing of the water column and promotes the upwelling of nutrients (mainly dissolved organic carbon (DOC), P and N) from the mesopelagic to the euphotic zone [15]. The availability of these nutrients results in phytoplankton blooms during spring [15]. When these blooms decay, a large amount of nutrients is released, and this ecological disturbance reshapes the composition of the prokaryotic community [16–19]. The Mediterranean Sea is characterized by a relatively high temperature (> 13 °C) throughout the entire water column. Although the mixing depth is variable depending on the year, it is normally located beyond 200 m [20].
Previous studies have used denaturing gradient gel electrophoresis (DGGE) [21], catalyzed reporter deposition-fluorescence in situ hybridization procedure (CARD-FISH), and clone libraries [22] to demonstrate the seasonal variability of the prokaryotic community in the northwestern Mediterranean observatory located in Blanes Bay. However, most of these studies were based at one single depth (surface). Furthermore, variations within the community were predicted at the level of a class or at most at the level of genera, ignoring the fact that within the same species, different ecotypes have different niche specialization, and therefore, they are found at different depths, such as Prochlorococcus high-light and low-light ecotypes [23]. Besides, many used PCR of 16S rRNA genes introducing unknown biases, and many others relied on FISH where mismatches on the probes can underestimate the abundance of the different prokaryotic groups. Metagenome shotgun sequencing, genome reconstruction, and metagenomics recruitment can give us a glimpse of the uncultured community inhabiting in this region, and changes in their concentration among different samples can be followed at a much finer level.
Here, we have analyzed two temporal sampling efforts, one with samples collected during the stratified period every 15 m throughout the photic zone (down to 90 m) and the other with samples collected during the winter when the water column was mixed (at two depths, 20 and 80 m). To assess the variations in the community structure, we used genome-resolved metagenomics [24] to measure the recruitment of reconstructed and reference genomes at the different depths and conditions (stratified or mixed), at high similarity thresholds. This allowed the discrimination of different ecotypes within the same species. We detected marked stratification of ecotypes that reflects species adaptation to live at defined depth range. Furthermore, we detected a stable component of the photic zone microbial community, which was present regardless of the season or physicochemical parameters. Other microbes were more sensitive and appeared only in a specific season. Our results highlight the importance of collecting and comparing samples from multiple depths to understand the dynamics between mixed and stratified waters.
Results and discussion
Seawater samples from six depths in the photic zone were collected at 15 m intervals (15, 30, 45, 60, 75, and 90 m) on a single day (between 8 am and noon) during the stratification period (15 October 2015). For the comparison between the photic and aphotic regions, we also collected another sample from 1000 m (the next day starting at 8 am) from the same site. Another two samples were collected on 27 January 2015, during the winter mixing at 20 and 80 m. With the exception of the 1000 m sample, all the samples were collected using a hose directly connected to the filtration apparatus to minimize processing time and to avoid bottle effects (Additional file
1
: Figure S1). The metadata and sequencing results are described in Table
1
.
Table 1
Summary statistics of the sampling, sequencing, and assembly parameters
MedWinter-JAN2015-20m

MedWinter-JAN2015-80m

Med-OCT2015-15m

Med-OCT2015-30m

Med-OCT2015-45m

Med-OCT2015-60m

Med-OCT2015-75m

Med-OCT2015-90m

Med-OCT2015-1000m

Sampling parameters

 Sampling data

1/27/2015

10/15/2015

10/16/2015

 Collection depth (m)

20

80

15

30

45

60

75

90

1000

 Sea bottom depth (m)

200

2647

 Size fraction (μm)

5–0.22

5–0.22

 Latitude (N)

38.06851

37.35361

 Longitude (W)

0.231994

0.286194

Environmental parameters

 Temperature (°C)

14.50

14.40

22.90

18.40

15.80

14.50

14.00

13.80

13.10

 Chlorophyll (mg/m3)

0.46

0.21

0.10

0.24

0.78

0.36

0.26

0.08

0.01

 Oxygen (mg/L)

9.59

9.42

7.09

8.77

9.00

7.66

7.16

6.88

6.10

 TOC (mgC/L)

1.23

1.03

2.43

2.17

1.46

1.43

1.36

1.35

0.84

 PO43− (μM)

0.12

0.08

0.06

0.07

0.10

0.08

0.12

0.22

0.39

 Total P (μM)

0.15

0.12

0.10

0.12

0.14

0.12

0.16

0.25

0.45

 NOx (μM)

3.26

3.89

0.20

0.21

0.25

0.23

5.79

6.23

8.24

 NH4+ (μM)

0.13

0.11

0.13

0.12

0.14

0.15

0.09

0.08

0.03

 Total N (μM)

3.68

4.36

0.40

0.41

0.48

0.46

6.33

6.90

8.89

 N:P ratio

23.81

35.74

4.00

3.42

3.43

3.83

39.56

27.60

19.76

Sequencing statistics

 Total bp (Gb)

15.9

15.3

19.9

15.1

3.1

15.3

16.9

15.0

14.8

 Mean read length (bp)

92

91.9

121.4

117.2

112.3

119.8

121.4

120.2

117.0

 Mean GC (%)

40.7

41.1

38.6

41.4

40.4

40.6

41.3

41.1

45.9

Assembly statistics

 Total bp (Mb)

203

201

738.5

500.3

79.5

577.3

701.3

613.5

490.0

 Mean GC (%)

38

39

38.5

35.7

35.5

38.6

38.9

40

42.2

 Maximum contig length (Kb)

137

109

251

165

118

235

186

140

450

 Contigs > 1 Kb

39,794

38,491

172,484

125,642

17,760

145,031

173,153

153,245

115,711

 Contigs > 10 Kb

869

885

4648

2198

202

2360

2789

2556

1807
Conclusions
The photic zone of aquatic habitats is subjected to several strong gradients of environmental parameters. In the Mediterranean, similar to in most temperate seas, thermal stratification appears only during warmer periods, typically from May to November, while in winter, the water column is mixed and the gradient of nutrients disappears. Although there is abundant information about the prokaryotic community composition during the stratified and mixed periods, most previous works derive from 16S rRNA-related techniques (such as FISH or barcoding approaches). These approaches do not have enough resolution at the species or ecotype levels. Here, we have used metagenome recruitment as an alternative to detect specific MAGs and some previously described genomes to assess the distribution of specific microbial genomes in a fine depth profile (every 15 m) from an stratified and also in a mixed water column during winter. We found major depth-associated shifts in the community structure during the stratified period and that, particularly at the level of fine variation, most microbes had a distribution covering only a ca. 30-m-thick layer of seawater and were stenobathic. During the stratified period, it is necessary to consider the vertical distribution as the major element instead of comparing single depth samples. Thus, we found that some microbes previously considered rare or seasonal (such as archaea or Actinobacteria) are actually resistant to seasonal variations. These microbes generally live in deeper layers within the photic zone during the stratification period (Fig.
6
). Our results also indicate a strong specialization not only at the taxonomic level but also at the functional level, even within the different clades, for the manipulation and uptake of specific polysaccharides and likely for the succession of different bloom events. This finding has important ramifications for global marine studies that most often take samples only at the surface or, at most, from one single subsurface photic zone. Moreover, the description of seasonal dynamics within the water column has important implications in the analysis and response to future alterations in the water conditions due to climate change. Mainly, an increase of the seawater temperature will produce a change of the physical mixing dynamics, where the upwelling of nutrients from the deeper layers to the surface will be prevented, reshaping the microbial community structure. As a result, this will have direct consequences on microbial metabolism, which will modify the marine global biogeochemical cycles (mostly carbon and nitrogen) [
78
].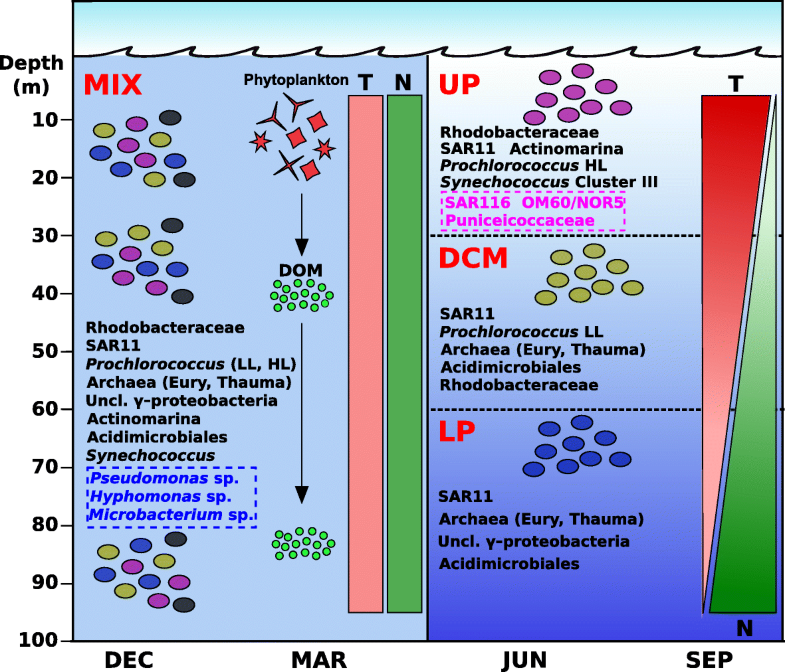 Declarations
Acknowledgements
Help from the crew and technicians of the CSIC R/V "Garcia del Cid" for the sampling is gratefully acknowledged. We thank Zachary Aanderud for providing helpful comments on the manuscript. This work was supported by grants "MEDIMAX" BFPU2013-48007-P, "VIREVO" CGL2016-76273-P [AEI/FEDER, EU], (co-founded with FEDER funds); Acciones de dinamización "REDES DE EXCELENCIA" CONSOLIDER CGL2015-71523-REDC from the Spanish Ministerio de Economía, Industria y Competitividad and PROMETEO II/2014/012 "AQUAMET" from Generalitat Valenciana. JHM was supported with a Ph.D. fellowship from the Spanish Ministerio de Economía y Competitividad (BES-2014-067828). MLP was supported with a postdoctoral fellowship from the Valencian Consellería de Educació, Investigació, Cultura i Esport (APOSTD/2016/051).
Availability of data and materials
Metagenomic datasets have been submitted to NCBI SRA and are available under BioProjects accession number PRJNA352798 (Med-OCT2015-15m [SRR5007106], Med-OCT2015-30m [SRR5007114], Med-OCT2015-45m [SRR5007115], Med-OCT2015-60m [SRR5007118], Med-OCT2015-75m [SRR5007138], Med-OCT2015-90 m [SRR5007139] and Med-OCT2015-1000m [SRR5007141]), and PRJNA257723 (MedWinter-JAN2015-20m [SRR3405540] and MedWinter-Jan2015-80m [SRR5877433]). The reconstructed genomes have been deposited as BioSample SAMN06890612 to SAMN06890655 and from SAMN08905455 to SAMN08905504 under BioProject PRJNA352798.
Authors' contributions
FRV conceived the study, helped with the analysis, and wrote the manuscript. JHM analyzed the data together with MLP and contributed to the writing of the manuscript. AC and AP helped in the sampling and analyzed all physicochemical and ecological parameters. JRT helped in analyzing the data and wrote the manuscript. All authors read and approved the final manuscript.
Competing interests
The authors declare that they have no competing interests.
Publisher's Note
Springer Nature remains neutral with regard to jurisdictional claims in published maps and institutional affiliations.
Open AccessThis article is distributed under the terms of the Creative Commons Attribution 4.0 International License (http://creativecommons.org/licenses/by/4.0/), which permits unrestricted use, distribution, and reproduction in any medium, provided you give appropriate credit to the original author(s) and the source, provide a link to the Creative Commons license, and indicate if changes were made. The Creative Commons Public Domain Dedication waiver (http://creativecommons.org/publicdomain/zero/1.0/) applies to the data made available in this article, unless otherwise stated.
Authors' Affiliations
(1)
Evolutionary Genomics Group, División de Microbiología, Universidad Miguel Hernández, Alicante, Spain
(2)
Department of Biology, San Francisco State University, San Francisco, USA
(3)
Cavanilles Institute of Biodiversity and Evolutionary Biology, University of Valencia, Valencia, Spain