City-scale distribution and dispersal routes of mycobiome in residences
Received: 19 February 2017
Accepted: 20 September 2017
Published: 4 October 2017
Abstract
Background
Pathogenic and allergenic bacteria and fungi within the indoors can bring detrimental health effects on the occupants. We previously studied the bacterial communities found in households located throughout Hong Kong as well as the skin surfaces of the occupants. As a complementary study, here, we investigated the fungal communities (mycobiome) in the same residences and occupants and identified factors that are important in shaping their diversity, composition, distribution, and dispersal patterns.
Results
We observed that common skin and environmental fungal taxa dominated air, surface, and skin samples. Individual and touch frequency strongly and respectively shaped the fungal community structure on occupant skin and residential surfaces. Cross-domain analysis revealed positive correlations between bacterial and fungal community diversity and composition, especially for skin samples. SourceTracker prediction suggested that some fungi can be transferred bidirectionally between surfaces and skin sites, but bacteria showed a stronger dispersal potential. In addition, we detected a modest but significant association between indoor airborne bacterial composition and geographic distance on a city-wide scale, a pattern not observed for fungi. However, the distance-decay effects were more pronounced at shorter local scale for both communities, and airflow might play a prominent role in driving the spatial variation of the indoor airborne mycobiome.
Conclusions
Our study suggests that occupants exert a weaker influence on surface fungal communities compared to bacterial communities, and local environmental factors, including air currents, appear to be stronger determinants of indoor airborne mycobiome than ventilation strategy, human occupancy, and room type.
Keywords
Mycobiome
Indoor built environment
Dispersal potentials
Distance-decay
Biogeography
Background
Individuals in urban societies spend most of their time indoors [1]. The indoor environment (also referred to as the built environment, BE) is also the habitat for microorganisms and represents a major interface of contact between humans and microbes [2]. In recent years, indoor microbiome has received much research interest, as organisms detected within BEs can be detrimental to human health [2–6]. Therefore, understanding factors that shape the indoor microbiome and its dispersal has great importance for occupants' health and well-being.
Human skin itself is home to a diverse community of commensal microbiota, consisting of bacteria, fungi, archaea, and viruses [7–9]. Since the advent of high-throughput sequencing, bacteria, as the predominant skin colonizers, have thus far garnered tremendous attention in microbiome work [8, 10–12]. The diversity and composition of skin bacterial community are highly personalized [13] and site-specific [14]. Direct contact between human skin and indoor surfaces is a major route for microbial dispersal, and residential surfaces harbor unique skin bacterial signatures [15, 16]. In addition, occupants release particles into the surrounding environment and leave the indoor air with distinctive human-associated microbial fingerprints [17, 18].
While bacterial communities on skin are better understood, cutaneous microbial assemblages are not limited to bacteria, with fungi also occupying a wide range of skin niches [7]. Within fungal communities (mycobiome), Malassezia, Rhodotorula, Debaromyces, Cryptococcus, and Candida are among the most prevalent cutaneous taxa across different individuals and population groups [19, 20]. Direct shedding of fungal microbes from occupant clothing may exert an influence on the indoor mycobiome [21]. Furthermore, human occupancy and behavior appear to affect fungal richness and diversity within the BEs [18, 22]. In agreement with this, common skin fungal taxa, possibly originating from human occupants, are widely detected in indoor dust [2, 23–26], air [21, 27], or surfaces [22, 28] of different BEs.
In addition to the host-associated factors, indoor mycobiome also tends to be highly influenced by fungi from the outdoors [15, 22, 29, 30]. Outdoor microorganisms rarely cross significant geographic barriers through active dispersal [31], but the small size of microbes can facilitate their long-distance passive dispersal potentially with the help of air, water, and/or animals [31, 32]. The outdoor spatial variation in microbial diversity with geographic distance generates the distance-decay biogeographic pattern [32, 33], which is also encountered in indoor environments at different spatial scales [3, 21] as a function of outdoor dispersal [34].
To date, most indoor mycobiome studies have been largely limited to the western world, with only a few exploring the dispersals of mycobiome within the BEs [21, 34]. Furthermore, the reported fungal distance-decay pattern is either on a short geographic distance (400 m) within a housing complex [34] or in residences located across continents [3], with no information on a city-wide scale with different levels of urbanization and the associated factors driving the indoor biogeographic pattern. The mechanism(s) by which fungi disperse within BEs, and whether endemic fungal taxa exist in Asian households, are also unknown. In this study, the air, skin, and surface mycobiomes of 19 households distributed throughout Hong Kong (HK) were analyzed and compared with our previous bacterial work in the same households [15]. The objective is to determine whether, like bacteria, fungi can be transferred between surface and skin and, therefore, whether household surfaces harbor the human skin "fungal fingerprint." Also, we aim to determine whether the indoor airborne mycobiome is strongly influenced by the local outdoor environment and whether households that are nearby share more taxa than those farther apart regardless of ventilation type and building design (i.e., demonstration of distance-decay relationships in the indoor airborne mycobiome).
Methods
Sample collection, DNA extraction, and sequencing
Full details are provided in the supplementary method file (Additional file
1
: Text S1). Air and surface samples were collected from 19 households distributed throughout HK (Fig.
1
), and skin samples were sampled from 40 healthy occupants who lived in the residences. A single biological sample per sample type was collected from each home (428 in total). Genomic DNA was extracted, and fungal ITS1 region was amplified with the 18S
fw
/5.8S
rv
primer pair [
14
]. Libraries were prepared using the Illumina MiSeq Reagent Kit v2 and sequenced on a MiSeq platform to generate 250 bp paired-end reads.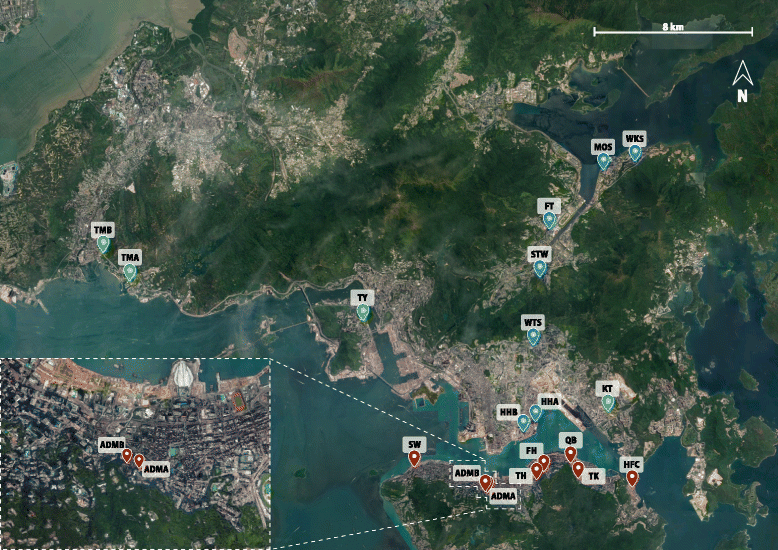 Bioinformatics
Forward and reverse reads were merged, trimmed, and filtered to a uniform length of 300 bp with an error rate of less than 0.5 error per read in USEARCH (version 9.0.2132) [35]. Dereplicated reads were clustered into operational taxonomic units (OTUs) at 97% identity following the UPARSE pipeline [36]. All sequences were first assigned taxonomy with the UNITE database [37] using the UCLUST algorithm in QIIME (version 1.9.1) [38], and a curated dataset [14] was then adopted to provide taxonomic information for reads that were unclassified at the genus rank with UNITE. Chimeras, singletons, and contaminants were discarded, and samples were rarefied to an even depth of 1058 reads per sample prior to the downstream analyses.
Data analyses and statistics
Statistical analysis was implemented using the R framework (version 3.3.0). Differences in the relative abundance of a given genus between groups were determined using the Mann-Whitney (MW) [39] and Kruskal-Wallis (KW) [40] tests. Indicator species analysis was performed with the "indval" function in the R package "labdsv" [41]. The significances of different building and location factors on rarefied alpha- and beta-diversity of indoor mycobiome were assessed using analysis of variance (ANOVA) of the linear mixed-effects models in the R package "lme4" [42] and permutational multivariate analysis of variance (PERMANOVA) by the "adonis" function in the R package "vegan" [43], respectively. The tested metrics include observed number of OTUs, Chao1 [44], Shannon [45], and Simpson [46] for alpha-diversity and Bray-Curtis dissimilarity [47] and Binary Jaccard distance [48] for beta-diversity analyses. The factors considered above contained customized variables such as household occupancy and surface properties (details are provided in Additional file 2: Table S1). Spearman test was used to investigate the cross-domain bacterial and fungal alpha- and beta-diversity correlations. Mantel test [49] in the R package "ade4" [50] was applied to calculate the correlation between the geographic distance and the indoor bacterial or fungal community dissimilarity at three spatial scales, with Binary Jaccard as the community distance metric. Dispersals between different sample types within the households were predicted using the SourceTracker algorithm [51]. Indoor and outdoor air source tracking was carried out with HK indoor air samples as sinks and outdoor air samples from Beijing [52] and Berkeley [21] as the surrogate sources after performing closed-reference and open-reference OTU picking in QIIME. The sampling and sequencing information of the three studies used in source tracking are summarized in Additional file 3: Table S2.
Conclusions
In summary, our study provides evidence that occupants can transfer fungi to household surfaces via contact. Although almost half of the residential surfaces harbor occupants' skin fungal fingerprint, fungi seem to be less readily transferred than their bacterial counterparts. Our study also shows that fungi appear to disperse farther in distance compared to bacteria during winter, and bacteria show dispersal limitation at a local scale. In addition, air currents, rather than building factors, appear to drive the spatial variation in the indoor airborne mycobiome in winter. This study provides important insights into the indoor transmission route of potential fungal allergens and pathogens, and the foundation to further study the complex relationships between indoor fungal exposure, occupant health, and the influence of outdoor environment.
Declarations
Acknowledgements
We thank Kelvin Chan, Kevin Distor, and Karen Yip of SeqMatic for their technical assistance on sequencing. In addition, we express special thanks to Ellen Li, Fred Kong, Wai Shan Chow, Catherine Chung, Ka Yan Ng, Yuet Ying Wong, and Flora Yeh for their assistance with sampling. We are grateful for the participation of the cohort in this study.
Funding
This research was supported by the Research Grants Council of Hong Kong through project 11276116. The funder had no role in the design, data collection, interpretation, and submission of the work presented here.
Availability of data and materials
Sequencing reads generated for this study have been deposited at the NCBI Sequence Read Archive (SRA) under the accession numbers SRP059432 (for skin samples) and SRP099248 (for residential air and surface samples). Custom scripts and workflows used in this study are available on FigShare (https://figshare.com/s/c7e50fa1537abaf43762).
Authors' contributions
XT carried out the bioinformatics and sequence analysis, and manuscript writing. MHYL contributed to the conception and design of the study, sample collection and preparation, and manuscript writing. DW helped in bioinformatics and data analysis. PKHL conceived and designed the study, and contributed to data analysis and manuscript writing. All authors have read and approved the final manuscript.
Ethics approval and consent to participate
Ethics approval for subject sampling and publication of data originating from subjects included in this study was granted by the City University of Hong Kong Ethics Committee (reference number 3-2-201312 (H000334)). All subjects provided written consent to release personal and related data for publication as needed.
Competing interests
The authors declare that they have no competing interests.
Publisher's Note
Springer Nature remains neutral with regard to jurisdictional claims in published maps and institutional affiliations.
Open AccessThis article is distributed under the terms of the Creative Commons Attribution 4.0 International License (http://creativecommons.org/licenses/by/4.0/), which permits unrestricted use, distribution, and reproduction in any medium, provided you give appropriate credit to the original author(s) and the source, provide a link to the Creative Commons license, and indicate if changes were made. The Creative Commons Public Domain Dedication waiver (http://creativecommons.org/publicdomain/zero/1.0/) applies to the data made available in this article, unless otherwise stated.
Authors' Affiliations
(1)
School of Energy and Environment, City University of Hong Kong, Kowloon, Hong Kong