Rumen metagenome and metatranscriptome analyses of low methane yield sheep reveals a Sharpea-enriched microbiome characterised by lactic acid formation and utilisation
Received: 4 May 2016
Accepted: 6 October 2016
Published: 19 October 2016
Abstract
Background
Enteric fermentation by farmed ruminant animals is a major source of methane and constitutes the second largest anthropogenic contributor to global warming. Reducing methane emissions from ruminants is needed to ensure sustainable animal production in the future. Methane yield varies naturally in sheep and is a heritable trait that can be used to select animals that yield less methane per unit of feed eaten. We previously demonstrated elevated expression of hydrogenotrophic methanogenesis pathway genes of methanogenic archaea in the rumens of high methane yield (HMY) sheep compared to their low methane yield (LMY) counterparts. Methane production in the rumen is strongly connected to microbial hydrogen production through fermentation processes. In this study, we investigate the contribution that rumen bacteria make to methane yield phenotypes in sheep.
Results
Using deep sequence metagenome and metatranscriptome datasets in combination with 16S rRNA gene amplicon sequencing from HMY and LMY sheep, we show enrichment of lactate-producing Sharpea spp. in LMY sheep bacterial communities. Increased gene and transcript abundances for sugar import and utilisation and production of lactate, propionate and butyrate were also observed in LMY animals. Sharpea azabuensis and Megasphaera spp. act as important drivers of lactate production and utilisation according to phylogenetic analysis and read mappings.
Conclusions
Our findings show that the rumen microbiome in LMY animals supports a rapid heterofermentative growth, leading to lactate production. We postulate that lactate is subsequently metabolised mainly to butyrate in LMY animals, producing 2 mol of hydrogen and 0.5 mol of methane per mol hexose, which represents 24 % less than the 0.66 mol of methane formed from the 2.66 mol of hydrogen produced if hexose fermentation was directly to acetate and butyrate. These findings are consistent with the theory that a smaller rumen size with a higher turnover rate, where rapid heterofermentative growth would be an advantage, results in lower hydrogen production and lower methane formation. Together with previous methanogen gene expression data, this builds a strong concept of how animal traits and microbial communities shape the methane phenotype in sheep.
Keywords
Bacteria
Metagenomics
Metatranscriptomics
Sheep rumen
Methane
Lactate production
Lactate utilisation
Background
Methane is a particularly strong greenhouse gas with a global warming potential of 34× that of CO2 [1]. Approximately, a third of all methane emissions derived from human-related activities are from enteric fermentation in livestock [2] and are emitted mostly from ruminant animals. Animal breeding has been used for many years to select for desirable production traits in ruminant livestock, and breeding low methane emitting animals is being investigated [3–6]. This work has identified animals with methane emission yields (g methane/kg dry matter intake/day) consistently lower or higher than the average animal methane yield, and these animals have been used to breed LMY and HMY lines [5]. The methane yield trait is heritable, and feed particle retention time [7, 8] and rumen volume [3] are thought to contribute to the phenotype. In ruminants, most of the methane is produced in the reticulo-rumen by the action of methanogenic archaea. Previously, it was reported that the main difference between rumen methanogen communities from rumen samples of LMY and HMY sheep was the differentially higher expression of genes involved in the hydrogenotrophic methanogenesis pathway in HMY sheep [9].
There are several possible substrates for methanogenesis in the rumen that originate from bacterial fermentation, including hydrogen, carbon dioxide (CO2), formate, acetate and methyl compounds [10]. Among these, hydrogen and CO2 are the main substrate for methanogenesis in the rumen [11, 12], and the majority of hydrogen produced from microbial carbohydrate fermentation is used for methane production [12]. Thus, there is a strong connection between microbial fermentation processes, their hydrogen production and methane formation by the methanogenic archaea in the rumen [13], and it is likely that rumen bacterial communities and their activities contribute to the methane yield phenotype of the animal. Differences in the relative abundances of bacteria producing large amounts of hydrogen in the rumens of HMY and LMY animals also support this theory [14]. Here, we used 16S ribosomal ribonucleic acid (rRNA) gene amplicon sequencing and metagenomic and metatranscriptomic sequence analyses of rumen samples from naturally HMY and LMY cohorts of sheep to investigate the hypothesis that the differences in animal methane yield phenotype are linked to differences in bacterial gene abundance and/or transcriptional activity.
Discussion
Our analyses of the bacterial metagenome and metatranscriptome datasets in this study show clear differences between rumen bacterial communities of HMY and LMY sheep based on community composition, gene abundance and gene expression. The microbiomes of HMY and LMY sheep were previously shown to differ in expression of methanogen genes involved in the hydrogenotrophic methanogenesis pathway [9]. We hypothesised that this was a response of methanogens to the supply of hydrogen in the rumen, which is likely influenced by the fermentation processes of other rumen microbes, which in turn is governed by particle retention time and/or digesta passage rate in sheep [14]. The results from the detailed analysis of the bacterial metagenome and metatranscriptome datasets presented here support the hypothesis that the rumen bacterial fermentation in LMY sheep leads to lower hydrogen formation, thereby causing less methane production by the methanogenic archaea. We have also identified a set of microbial genes whose abundances and expression profiles show strong predictive ability in quantifying methane yield. Microbial DNA sequences correlated with methane yield have recently been reported in cattle [18–21], indicating that such genes could be generally useful as markers to predict methane yield phenotypes across ruminant species.
Increased abundance of lactate producers in LMY rumen microbiomes
While the microbiomes of HMY animals showed an increased abundance of the families Lachnospiraceae and Ruminococcaceae, the microbiomes of LMY animals showed 10- to 13-fold enrichment of the genus Sharpea and accordingly, members of the family Erysipelotrichaceae to which Sharpea belongs. In LMY animals, 16S rRNA gene sequences assigned to Sharpea spp., from either amplicon or metagenome sequencing, represented ~14 % of total bacterial sequences. S. azabuensis is a Gram positive, heterofermentative anaerobe, capable of growth on a range of common sugars and produces lactate and CO2 from fermentation of glucose [22]. Sharpea spp. or family Erysipelotrichaceae 16S rRNA gene sequences have often been retrieved from ruminants. More recently, in an extensive survey of microbial communities in multiple cohorts of sheep with low and high methane yields, Kittelmann et al. [14] reported that the "S" LMY ruminotype was enriched with S. azabuensis sequences, among other lactate and succinate producers, representing on average 11.9 % of the bacterial 16S rRNA genes. It was postulated that the "S" ruminotype resulted in less hydrogen being formed from rumen fermentation, which in turn, supported smaller numbers of hydrogenotrophic methanogens and less methane formation. Our observations confirm that the microbial community in the LMY sheep analysed here belong to the "S" ruminotype. The reason for enrichment of Sharpea spp. in LMY sheep may be related to the observation that some animals appear to have naturally smaller rumen size, and a higher ruminal turnover rate [3, 23]. It has been hypothesised that a higher rumen turnover rate selects for microorganisms that are capable of fast, heterofermentative growth on soluble sugars, producing less hydrogen, which leads to less methane formation [14]. The definitive experiments linking microbial communities, rumen size and turnover rate directly with methane yield are yet to be conducted, but the association found between Sharpea spp. abundance and low methane yield from this study lend weight to this hypothesis. Sharpea spp. appear to fulfil this role in LMY sheep, but it is possible that other rumen microorganisms with similar growth and metabolic properties may dominate on other diets or within different ruminant hosts.
Increased sugar transport and rapid fermentation leads to more lactate production
The proposed fermentation scheme of the "S" ruminotype community in the LMY animals is supported in our study by differences in the abundances of bacterial genes and transcripts encoding for PTSs and galactose metabolism. Individual components of PTSs are commonly found in rumen bacterial genomes, but our analysis of genomes sequenced via the Hungate1000 project (http://genome.jgi.doe.gov/TheHunmicrobiome/) show that the PTS genes most highly enriched in the LMY animals (cellobiose, fructose, glucose and lactose) are particularly abundant in species of Sharpea, Clostridium, Enterococcus and Kandleria and in Erysipelotrichaceae bacterium NK3D112 (Additional file 17: Table S8). Furthermore, mapping the metatranscriptome read data to the S. azabuensis genome confirmed higher transcription of several PTS systems in LMY sheep from this organism. It also showed higher transcription level of genes involved in sugar fermentation such as glyceraldehyde-3-phosphate dehydrogenase and fructose-1,6-bisphosphate aldolase (Additional file 14: Table S6), further supporting the theory of rapid sugar processing by this organism. The enrichment of cellobiose- and glucose-specific PTS transporters is consistent with the degradation of the fibre component of the sheep lucerne diet, via the action of cellulases and cellobiases that generate cellobiose and glucose, respectively. The elevated level of fructose-specific PTS transporters also makes biological sense, as sucrose (a disaccharide of fructose and glucose) is a major component of the soluble carbohydrates found in lucerne [24]. However, the occurrence of lactose PTS transporters is surprising, as lactose is not a sugar produced by plants. It is known that genes annotated as lactose-specific PTS transporters in Lactococcus lactis [25] and Streptococcus gordonii [26] actually mediate galactose transport, thus it is probable that the lactose-specific PTS transporters (lacEF) identified in the rumen actually encode galactose PTS transporters. The elevated gene abundance of tagatose-6-phosphate pathway genes in LMY in our study that are involved in galactose metabolism supports this idea. Galactose is a significant sugar found in lucerne, making up ~1.5 and 1.4 % of the cell wall monomer composition of leaf and stem fractions, respectively [27].
Under conditions of rapid sugar fermentation in a high flux system, bacteria also need to synthesise more cellular components to keep pace with increased growth requirements. This necessitates the generation of more reducing potential to drive cellular reactions, such as fatty acid synthesis, and the production of more amino acids and nucleic acids to support increased bacterial growth. This scenario is consistent with the enrichment in the LMY animals of genes involved in the shikimate pathway which links carbohydrate metabolism to the synthesis of the aromatic amino acids, tyrosine, phenylalanine and tryptophan, as well as to the formation of co-enzymes and vitamins. In bacteria, this pathway is tightly regulated by direct metabolite feedback inhibition and/or by repression at the genetic level [28–30] to control the energetically expensive synthesis of aromatic compounds. Regulation of the pathway is also exerted via a metabolic control where the rate of enzyme synthesis is related to the growth rate of the cell [31]. Therefore, increased expression of shikimate pathway genes is a strong indicator that the LMY rumen microbiome is directing metabolism towards increased anabolic processes to support faster microbial growth. The mapping of shikimate pathway gene transcripts enriched in the LMY animals to the S. azabuensis genome is also an indication that these organisms are important contributors to this anabolic process.
Phylogenetic, as well as metagenomic and metatranscriptomic data, indicated an increased abundance and activity of Sharpea spp. Consequently, rapid fermentation of sugars released from lucerne in the LMY rumen would be expected and would result in the production of lactate and CO2. Lactate is formed as a means of quickly dumping reducing equivalents under conditions of rapid glycolytic flux [32]. Lactate is not a major product of rumen fermentation under normal conditions, but when animals are fed a carbohydrate-rich diet with high levels of soluble sugars, lactate can accumulate [33]. Our VFA data did not show a significant difference in lactate concentration between LMY and HMY animals but suggest a trend towards higher lactate concentration in LMY animals (Fig. 1), which supports the theory of rapid fermentation and lactate formation in these animals. Lactate can be formed via the action of two different forms of NAD-linked LDHs (nLDHs); one produces l (+)-lactate (LnLDH, EC 1.1.1.27) while the other (DnLDH, EC 1.1.1.28) produces d (−)-lactate. In the metagenome datasets, only the LnLDH genes were differentially abundant in the LMY animals, and phylogenetic analysis of their amino acid sequences showed that some of the most abundant LnLDH genes were associated with Sharpea spp. and with Kandleria spp., other potential lactate producers closely related to Sharpea [34]. Mapping the metatranscriptome reads to the S. azabuensis genome showed higher expression of the DnLDH gene in this organism which suggests increased production of lactate by Sharpea organisms in LMY animals comes from both LnLDH and DnLDH activity.
Increased lactate conversion to propionate and butyrate in LMY animals
High lactate production in the rumen is known to reduce rumen pH and select for lactate-utilising organisms [35]. The observations of a 17-fold enrichment of 16S rRNA and ldh (l-LDH gene 28) genes, as well as a significant increase of transcripts from lactate-utilising Megasphaera spp. in LMY animals (Additional file 13: Figure S7), are consistent with this expectation. M. elsdenii is considered to be the main fermenter of lactate in the rumen, accounting for up to 74 % of the lactate fermentation in the rumen of dairy cattle [17]. Its relative abundance in the bacterial community is also known to increase under conditions of rapid sugar fermentation and lactic acidosis [36] and Megasphaera was one of the two genera found to be more abundant in low residual feed intake (efficient) dairy cows [37]. Lactate permease and a gene encoding a potential lactate utilisation protein were found among the most highly transcribed genes based on metatranscriptome read mappings to the M. elsdenii genome (Additional file 15: Table S7). Together with the l-lactate dehydrogenase, these genes appear to be involved in lactate uptake and processing to pyruvate. This metabolism of lactate by Megasphaera is likely to explain why there was no shift in the pH of the LMY rumen samples.
M. elsdenii produces propionate via the acrylate pathway, as well as producing acetate, butyrate, valerate, and traces of caproate from various reactions involving acetyl-CoA derived from lactate oxidation via pyruvate [17]. Genes encoding the acrylate pathway were reported to be enriched in the microbiomes of efficient dairy cows, and many of these genes were annotated as being from M. elsdenii [37]. In the total metagenome and metatranscriptome data from the current study, KEGG genes of the acrylate pathway showed significantly more abundance in LMY animals at both gene and transcript abundance levels (Fig. 4), as did genes involved in the transformation of pyruvate to butyrate on transcript and transcript per gene level (Fig. 5). However, fermentation to butyrate seems the more likely pathway used by M. elsdenii in the LMY animals, as the indicator gene for the acrylate pathway, lactyl-CoA dehydrogenase (lcdA), was only significantly more abundant in LMY animals on the metagenome level. Furthermore, direct mapping of the metatranscriptome data to the M. elsdenii genome showed that this gene was not highly transcribed. The remaining genes of the acrylate pathway are also involved in other pathways and are not useful for predicting propionate formation. Instead, fermentation to butyrate seems more likely, considering the high metatranscriptome read counts of genes involved in this pathway (Additional file 16: Figure S8). These results fit well with a current model for lactate utilisation by M. elsdenii under steady state conditions where lactate is converted predominantly to butyrate (54 %) with some acetate formation (12 %) and no propionate formation [38]. Several ldh genes with strong abundance and transcriptional activity in LMY animals fell into a separate phylogenetic cluster ("metagenomic cluster") with no closely related reference ldh genes (Additional file 11: Figure S5 and Additional file 12: Figure S6). This indicates that some potentially important players involved in lactate production and utilisation in the rumen are not yet identified and their metabolic end products or impact on hydrogen and methane formation are not known.
Lactate conversion to butyrate, instead of to propionate, produces 2 mol of hydrogen per hexose, which could produce 0.5 mol of methane via the hydrogenotrophic pathway. A direct fermentation of hexoses to butyrate and acetate by, for example, members of the Ruminococcaceae would produce 2.66 mol of hydrogen and allow 0.66 mol of methane to be formed [13]. Thus, lower hydrogen production via the lactate to butyrate pathway would decrease methane production by 24 % and provides an explanation for the lower methane yield in animals with the "S"-type microbiome.
The preceding analyses indicate that the rumens of LMY sheep support a rapid fermentation by Sharpea, producing lactate, which is converted to mainly butyrate by Megasphaera. One might therefore expect increased lactate and butyrate concentrations in the rumen of LMY animals. Measurement of fermentation acids did not reveal any trend towards increased production of butyrate in the LMY animals, but a high degree of variability of lactate concentrations was observed between LMY samples, and the trend was towards higher lactate in the LMY samples. Our bacterial abundance and gene expression data predict that lactate production in the LMY rumen is balanced with lactate utilisation, such that significant differences in lactate concentrations compared to the HMY rumen are not observed. Butyrate is absorbed by the rumen epithelium where it is converted to β-hydroxybutyrate and acetoacetate and used as energy substrates for the epithelial cells. It is well known that butyrate stimulates rumen development [39] and that butyrate infused into the rumen causes papillary growth [40]. In dairy cattle, the rate of butyrate absorption from the rumen increases with increasing butyrate concentration, and a smaller rumen volume results in higher butyrate absorption [41]. Therefore, we propose that increased production of butyrate in LMY animals is balanced by greater absorption of butyrate across the rumen epithelium. Further experiments are required to examine the flux of both lactate and butyrate in the rumen of LMY animals to confirm these predictions.
Conclusions
The amplicon, metagenome and metatranscriptome data analysed in this study demonstrated strong evidence of a
Sharpea
-enriched, "S"-type bacterial community associated with LMY sheep. There is a clear pattern of gene and transcript abundance reflecting rapid heterofermentative growth in the rumen with lactate formation and subsequent metabolism to butyrate. These differences are consistent with a smaller rumen and a higher rate of digesta turnover in LMY animals, leading to a microbiome that produces less hydrogen and therefore less methane. In contrast, the HMY animals show less enrichment of specific bacterial taxa and maintain communities similar to those commonly found in other ruminants. Based on these results, we present a concept to explain the differences in bacterial communities and how they influence methane formation in the LMY and HMY animal cohorts (Fig.
6
). In this concept, the community structure of the HMY rumen has higher abundance of members of the Ruminococcaceae and Lachnospiraceae, while the LMY community is enriched in Erysipelotrichaceae, especially
Sharpea
spp. We propose that this community shift is caused by physical differences in rumen size and turnover rate, where the smaller, faster turnover, LMY rumen selects for rapid bacterial fermenters, such as
Sharpea
spp. The higher abundance of
Sharpea
spp. is accompanied by increased lactate production and by a corresponding increase in conversion of lactate to butyrate by
Megasphaera
spp. These community differences result in a fermentation shift, from fermentation of hexoses to butyrate and acetate (mediated by organisms belonging to the family Ruminococcaceae in HMY animals), to fermentation of hexoses to butyrate only, via a two-step process (involving
Sharpea
spp. and
Megasphaera
spp., in LMY animals). The one-step HMY fermentation is predicted to generate 2.66 mol of hydrogen per mol hexose and 0.66 mol of methane, while the two-step fermentation in LMY animals gives 2 mol of hydrogen leading to 0.5 mol methane. Thus, it is predicted that the LMY rumen would produce approximately 24 % less methane. Of course, these pathways do not represent all of the fermentation occurring, and so, the overall methane difference is smaller. The demonstration of distinctly different rumen microbiomes between LMY and HMY animals supports the notion that the methane yield phenotype in sheep is a repeatable and heritable trait which can be selected in breeding programmes [
42
,
43
]. Genetic and phenotypic correlations of methane outputs with various production traits in sheep (weaning weight, live weight at 8 months of age, dag score, muscle depth, and fleece weight at 12 months of age) have been measured [
5
] to establish whether selecting for LMY in sheep will be beneficial from an animal production point of view. Most of the correlations with production traits were weak and not significantly different from zero, but for fleece weight, the correlation estimates suggest a low economically favourable relationship. Therefore, in conjunction with methane yield measurements, rumen microbiome characterisation will be a helpful screening tool for selecting low methane emitting sheep.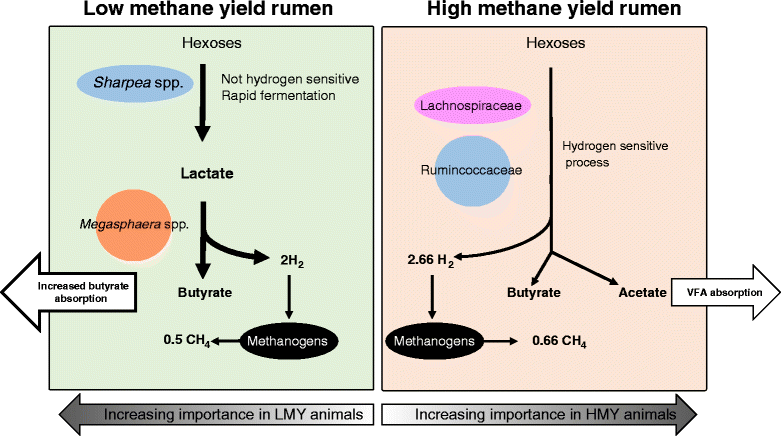 Declarations
Acknowledgements
We thank William Kelly and Christina Moon for critiquing the manuscript.
Funding
This work was supported by the New Zealand Fund for Global Partnerships in Livestock Emissions Research, supporting the objectives of the Livestock Research Group of the Global Research Alliance on Agricultural Greenhouse Gases. The 16S rRNA gene amplicon sequencing was conducted by the US Department of Energy Joint Genome Institute which is supported by the Office of Science of the US Department of Energy under Contract No. DE-AC02-05CH11231.
Availability of data and materials
The metagenome and metatranscriptome datasets used in this study are accessible at the National Centre for Biotechnology Information Sequence Read Archive (SRA; http://www.ncbi.nlm.nih.gov/sra) accession number SRA075938, bioproject number PRJNA202380. Additional 16S rRNA gene amplicon sequence data was submitted to this bioproject number under the following SRA experiment accession numbers: SRX1079958 - SRX1079985. Assembled ldh genes have been deposited in GenBank under accession numbers KU310685 - KU310882.
Authors' contributions
The following authors contributed to the study design: GA, PJ and ER. Data collection and experimental procedures were conducted by JK, GA, PS, YL and MT. Data analysis and interpretation were performed by JK, SK, GA, SG, MT, WS, JF and PJ. The manuscript was prepared by JK and GA. All authors read and approved the final manuscript.
Competing interests
The authors declare that they have no competing interest.
Consent for publication
Not applicable.
Ethics approval and consent to participate
The measurement of methane emissions and the collection of rumen contents from sheep were carried out under the approval of the AgResearch Ltd Grasslands Animal Ethics Committee approval 12241.
Open AccessThis article is distributed under the terms of the Creative Commons Attribution 4.0 International License (http://creativecommons.org/licenses/by/4.0/), which permits unrestricted use, distribution, and reproduction in any medium, provided you give appropriate credit to the original author(s) and the source, provide a link to the Creative Commons license, and indicate if changes were made. The Creative Commons Public Domain Dedication waiver (http://creativecommons.org/publicdomain/zero/1.0/) applies to the data made available in this article, unless otherwise stated.
Authors' Affiliations
(1)
AgResearch Limited, Grasslands Research Centre, Palmerston North, New Zealand
(2)
Department of Energy, Joint Genome Institute, Walnut Creek, USA
(3)
Genomic Division, Lawrence Berkeley National Laboratory, Berkeley, USA