Stable isotope informed genome-resolved metagenomics reveals that Saccharibacteria utilize microbially-processed plant-derived carbon
Received: 18 April 2018
Accepted: 11 June 2018
Published: 3 July 2018
Abstract
Background
The transformation of plant photosynthate into soil organic carbon and its recycling to CO2 by soil microorganisms is one of the central components of the terrestrial carbon cycle. There are currently large knowledge gaps related to which soil-associated microorganisms take up plant carbon in the rhizosphere and the fate of that carbon.
Results
We conducted an experiment in which common wild oats (Avena fatua) were grown in a 13CO2 atmosphere and the rhizosphere and non-rhizosphere soil was sampled for genomic analyses. Density gradient centrifugation of DNA extracted from soil samples enabled distinction of microbes that did and did not incorporate the 13C into their DNA. A 1.45-Mbp genome of a Saccharibacteria (TM7) was identified and, despite the microbial complexity of rhizosphere soil, curated to completion. The genome lacks many biosynthetic pathways, including genes required to synthesize DNA de novo. Rather, it requires externally derived nucleotides for DNA and RNA synthesis. Given this, we conclude that rhizosphere-associated Saccharibacteria recycle DNA from bacteria that live off plant exudates and/or phage that acquired 13C because they preyed upon these bacteria and/or directly from the labeled plant DNA. Isotopic labeling indicates that the population was replicating during the 6-week period of plant growth. Interestingly, the genome is ~ 30% larger than other complete Saccharibacteria genomes from non-soil environments, largely due to more genes for complex carbon utilization and amino acid metabolism. Given the ability to degrade cellulose, hemicellulose, pectin, starch, and 1,3-β-glucan, we predict that this Saccharibacteria generates energy by fermentation of soil necromass and plant root exudates to acetate and lactate. The genome also encodes a linear electron transport chain featuring a terminal oxidase, suggesting that this Saccharibacteria may respire aerobically. The genome encodes a hydrolase that could breakdown salicylic acid, a plant defense signaling molecule, and genes to interconvert a variety of isoprenoids, including the plant hormone zeatin.
Conclusions
Rhizosphere Saccharibacteria likely depend on other bacteria for basic cellular building blocks. We propose that isotopically labeled CO2 is incorporated into plant-derived carbon and then into the DNA of rhizosphere organisms capable of nucleotide synthesis, and the nucleotides are recycled into Saccharibacterial genomes.
Keywords
Stable isotope probing
Complete genome
Saccharibacteria
Metagenomics
Rhizosphere
Background
The candidate phyla radiation (CPR) comprises a large fraction of the bacterial domain [1, 2]. Within the CPR, Saccharibacteria, formerly TM7, is one of the most captivating phyla because of the wide diversity of habitats in which it is found, including activated sludge, human and dolphin oral cavities, seawater, aquifer sediment, soil, and cockroach guts [3–10]. Much has been learned about the metabolism of Saccharibacteria and their influence on their environment, for instance, the possible immunosuppressive capabilities of an episymbiont of Actinomyces odontolyticus in human mouths and bulking issues caused in wastewater treatment plants [7, 11]. There have been previously proposed subdivisions within the Saccharibacteria phylum, but currently the majority of our genomic data comes from organisms which fall within Subdivision 3 and there exists very little genomic representation of Subdivision 1 [4, 12]. Organisms in Subdivision 1 are predominantly found in environmental samples [13]. One of the reasons why there may be less genomic data available for Saccharibacteria in Subdivision 1 is because of the high microbial diversity of environmental samples, especially soil, which makes sequencing efforts more challenging. Based on 16S ribosomal RNA gene surveys, we know that Saccharibacteria occur in the rhizosphere, but little is known about their metabolism and how they differ from related organisms growing in other environments [14, 15].
There are six previously reported, closed, and circularized genomes for Saccharibacteria (one from a wastewater treatment plant [16], human mouth [7], two from sediment [1, 8], and two from a thiocyanate remediation wastewater reactor [17]) and some partial genomes. Based on genomic analyses, it was previously predicted that Saccharibacteria are anaerobic fermenters, despite the documentation of one genome encoding a single-subunit of NADH: ubiquinone dehydrogenase and a complete ubiquinol oxidase, which was explained as an oxygen-scavenging mechanism [8]. It has also been documented that Saccharibacteria are able to grow in the presence of oxygen [3, 7, 18]. Previous soil SIP work has shown that Saccharibacteria DNA became labeled in the presence of 13C cellulose and toluene [19, 20]. Labeling experiments have indicated that 13CO2 can be traced from plant fixation into the DNA of rhizosphere-growing microbes [21, 22]. Here, we found that a Saccharibacteria population in rhizosphere soil incorporated 13C into its genomic DNA, indicating that this population was active and dividing. We report the complete genome for this organism and show how analysis of its metabolism sheds light on the pathway by which the label was incorporated. We compare the genome to those of other complete Saccharibacteria to address the question of how this bacterium is adapted to live in soil and specifically in the rhizosphere.
Results
After 6 weeks in labeling chambers,
Avena fatua
shoots were highly labeled (~ 94 atom%
13
C). DNA was extracted from the rhizosphere and bulk soil samples. By comparing the density separation of the rhizosphere community DNA to the bulk community DNA, we were able to define un-enriched (light), partially
13
C-enriched (middle), and highly
13
C-enriched (heavy) fractions (Fig.
1
). Based on the cutoff values for these fractions, 32 density-separated fractions for the rhizosphere sample were then combined, generating light, middle, and heavy fractions (the bulk sample only contains light and middle fractions due to the absence of
13
C-enriched DNA) (Fig.
1
).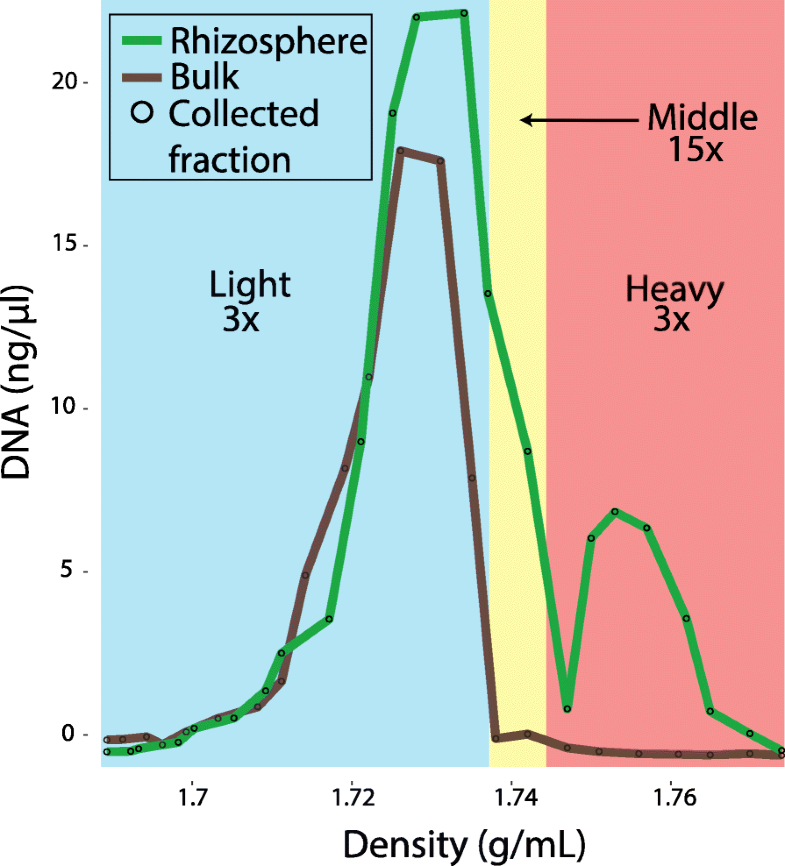 The light, middle, and heavy density separated fractions from the rhizosphere and bulk samples were sequenced and subjected to genome-resolved metagenomic analyses (Additional file 1: Table S1). From the rhizosphere middle fraction, we assembled 210 Mbp of scaffolds larger than 1 kbp. One especially large scaffold was assembled de novo and could be circularized. Local assembly errors were identified and corrected and three scaffolding gaps were filled by manual curation. Manual curation made use of unplaced paired reads that were mapped back to the gap boundaries to fill gaps. The complete, closed genome is 1.45 Mb in length with a GC content of 49.95%. We were able to recover a single chromosome and we detected no integrated phage or plasmids. The genome was most abundant in the rhizosphere middle fraction at 15× coverage, but was also present in the rhizosphere heavy and light fractions at ~ 3× normalized coverage. The genome had less than 1× coverage in the non-rhizosphere soil (Additional file 1: Table S1).
DNA buoyant density in a cesium chloride solution is a function of both the extent of isotopic enrichment and the GC content. Low GC has a lower buoyant density as compared to higher GC DNA [23]. The completed, closed genome has a lower GC content (49.95%) than the rest of the rhizosphere middle fraction assembly (average GC content of scaffolds larger than 1000 bp is 66%), which indicates 13C may have been incorporated into the DNA. The rhizosphere middle fraction where the genome was mainly detected had a density of 1.737–1.747 g/ml. Given that natural abundance DNA with 49.95% GC content would have a density of ~ 1.71 g/ml [24], we estimate that the DNA from which the genome was assembled was at least 50% enriched in 13C.
The genome has 1531 protein coding sequences (Additional file
2
: Table S2) and a full complement of tRNAs (46 in total). The 5S rRNA, 23S rRNA, and 16S rRNA genes are in a single locus that also includes Ala and Ile tRNA genes. Based on the sequence of the 16S rRNA gene, the genome was assigned to be a member of the Saccharibacteria phylum. The closest 16S rRNA gene sequences in NCBI are from the rhizosphere of
Pinus massoniana
(Fig.
2
) [
25
]. The most closely related genomically described organism is Candidatus
Saccharimonas aalborgensis
from activated sludge with 84% identity across the full-length 16S rRNA gene [
16
]. We propose the name
Candidatus
"Teamsevenus rhizospherense" for the organism described here, given the derivation of the genome from the rhizosphere. In accordance with the phylogenetic analysis, we renamed Subdivision 1 to
Candidatus
Soliteamseven because this genome is the first described Candidatus species of this clade. The representatives of this clade are mostly found in soil, therefore, we propose the complete taxonomic descriptor: Phylum:
Candidatus
Saccharibacteria, Class:
Candidatus
Soliteamseven, Order:
Candidatus
Teamsevenales, Family:
Candidatus
Teamsevenaceae, Genus:
Candidatus
Teamsevenus, Species:
Candidatus
rhizospherense.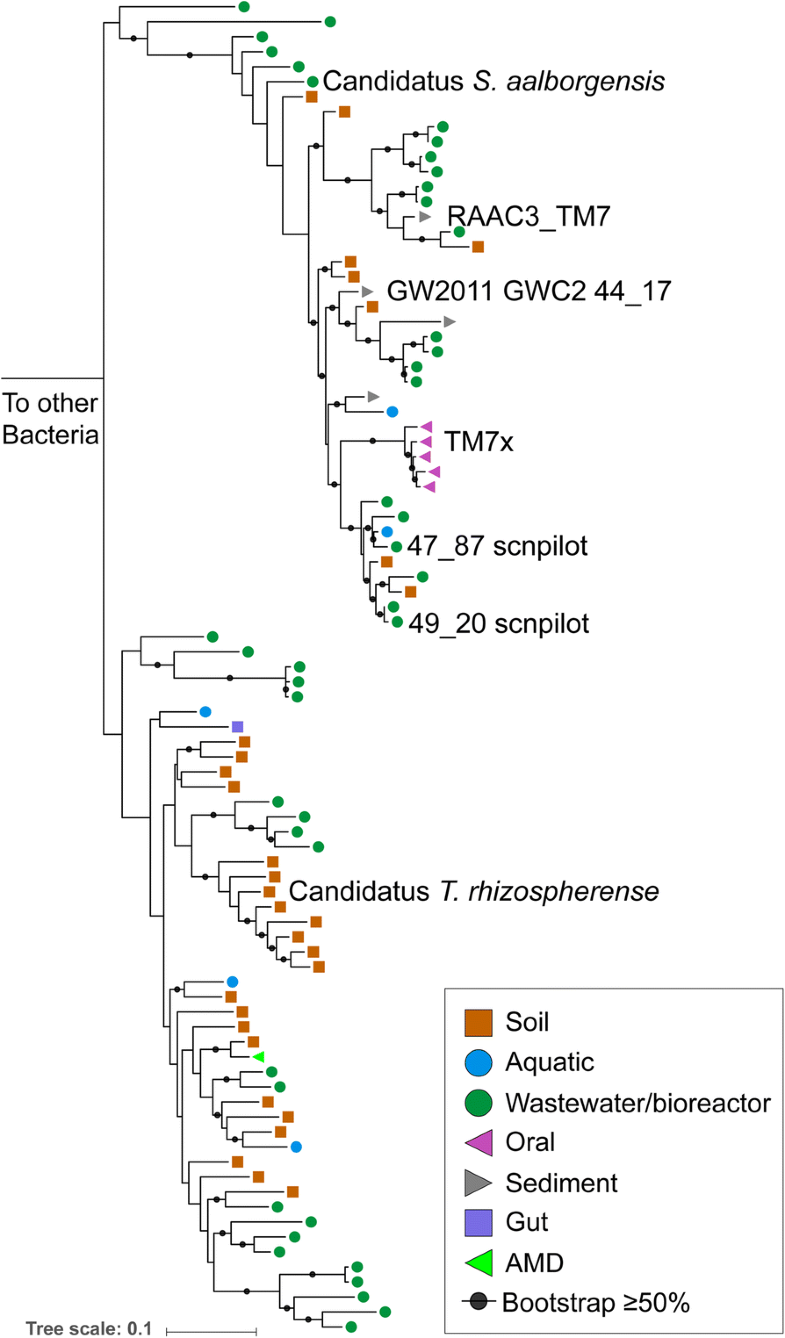 We calculated the GC skew and cumulative GC skew across the closed T. rhizospherense genome and found the symmetrical pattern typical for bacteria, with a single peak and trough indicative of the terminus and origin of replication (Additional file 3: Figure S1). This result both validates the accuracy of the circularized genome and confirms that Saccharibacteria use the typical bacterial pattern of bi-directional replication from a single origin to the terminus (as do some Peregrinibacteria, another group of CPR bacteria [26]). The start of the genome was adjusted to correspond to the predicted origin, which lies between the DNA polymerase III subunit beta and the chromosomal replication initiator protein. It has a full set of ribosomal proteins, except for L30, which is uniformly absent in CPR bacteria [1].
Discussion
The T. rhizospherense genome does not encode the capacity to generate the ribose backbone of DNA or bases and thus it must acquire nucleotides from external sources. Importantly, its DNA is labeled with 13C that likely originated from 13CO2 fixed by the plant over the 6-week study period. There are several sources of labeled DNA that might have been available to T. rhizospherense. We suspect that it obtained DNA from bacteria that lived off plant-derived carbon. However, some of the T. rhizospherense DNA might have been from phage that killed bacteria that grew on the 13C-labeled plant exudates. This is plausible because we identified labeled phage DNA (data not shown). Alternatively, T. rhizospherense may acquire DNA from fungi or the plant, but we consider this less likely given the predicted obligate association between Saccharibacteria and other bacteria.
As Saccharibacteria depend on extracellular nucleosides, they may have difficulty regulating the correct nucleoside concentrations. This is known to be a mutagenic condition and a possible reason for the large number of DNA repair mechanisms [44]. Further, multi-copy enzymes that prevent incorporation of damaged nucleotides may reflect dependence of externally derived DNA that may have been damaged during residence in the soil environment. The lifestyle of T. rhizospherense is novel compared to those of other CPR in that it is predicted to have the capacity to grow aerobically. Consistent with this, it has a number of oxidative stress response genes. A close relationship with plant roots also may explain the presence of these genes, as plants release reactive oxygen species in response to pathogens and stress. It is the first member of the Saccharibacteria phylum to be described from the rhizosphere, and it appears to be adapted to life there via an expanded genetic repertoire for plant hormone modulation and carbohydrate degradation relative to other Saccharibacteria.
It is possible that T. rhizospherense is a symbiont of soil-dwelling bacteria, with a lifestyle analogous to that of the Saccharibacteria TM7x that was cultured as an epibiont of a mouth-dwelling Actinobacteria [7, 18]. A similar association is indicated by the antibiotic resistance mechanisms that are encoded by T. rhizospherense that protect against compounds produced by Actinobacteria, methylenomycin A, oleandomycin, vancomycin, and streptomycin. Additionally, the predicted ability for T. rhizospherense to produce phosphatidylinositol mannosides provides an intriguing connection between this organism and the clades of Actinobacteria that produce phosphatidylinositol mannosides, Mycobacterium being the best studied. In Mycobacterium, this cell wall component may protect the cell from antibiotics and act as a virulence factor during infection [28].
We suspect that T. rhizospherense is a symbiont of a rhizosphere-dwelling organism. However, we do not know the extent of labeling, other than DNA, of cellular components of T. rhizospherense. These components may have derived from plant root exudates and would therefore be labeled, but we cannot say for certain as we did not measure the isotopic composition of lipids, proteins, and metabolites. The presence of machinery to degrade a variety of complex carbohydrates including cellulose and fungal cell walls suggests that this organism may not rely solely on plant exudates, but can also degrade biomass and necromass in the rhizosphere. T. rhizospherense has many genes for attachment that could be used to connect to a microbial host or plant surfaces. It may directly interact with the plant, given genes for the modulation of signaling molecules zeatin, cytokinin, and salicylic acid.
Conclusions
To our knowledge, this is the first study to generate a complete, circularized genome from a soil-dwelling bacteria de novo from any soil metagenome. It is the first stable isotope-informed genome-resolved metagenomic study in the rhizosphere and thus the first soil microbiome study to make use of stable isotope probing to track carbon from atmospheric CO2 into the complete genome of a novel rhizosphere organism. The evidence indicates that 13C was incorporated into the T. rhizospherense DNA through its use of externally derived nucleic acids that may have been synthesized by associated organisms that grew on plant exudates. T. rhizospherense is the first genomically described rhizosphere-associated member of the Saccharibacteria phylum and many of its predicted metabolic capacities distinguish this organism from related Saccharibacteria that live in anaerobic environments. The rhizosphere soil may alternate between aerobic and anaerobic conditions, and it appears that T. rhizospherense may have adapted to these cycles by having the capacity to perform fermentation and to grow aerobically using an unusual electron transport chain.
Methods
Labeling
Soil (0–10 cm) was collected from the University of California Hopland Research and Extension Center (Hopland, CA, USA), from an area where Avena spp. are a common grass. Microcosms were constructed and plant growth conditions were regulated as described previously [45]. For this analysis, we used samples obtained from a single microcosm. A sample of T0 soil was collected after microcosm preparation and before planting. A single A. fatua plant was grown in a microcosm in a labeling chamber maintained at 400 μL/L CO2, with native CO2 replenished with 99 atom% 13CO2. After 6 weeks, a single sample of rhizosphere soil and a single sample of bulk soil was sampled at the vegetative stage; the microcosm was destructively harvested for rhizosphere soil and from bulk soil mesh bags which excluded root ingrowth. Rhizosphere soil was washed off the roots and DNA was extracted from 0.5 g of soil using a phenol:chloroform extraction detailed in [45]. We used bulk soil samples to control for the direct incorporation of 13CO2 into biomass. We used two different types of samples to control for non-plant-related 13CO2 influence: (1) DNA extracted from pre-planted microcosm soil which never received 13CO2 treatment and (2) DNA extracted from bulk soil collected at the same times as root harvesting (6 weeks) within the same microcosm [45]. The pre-planted sample provides a clean natural abundance bulk soil and the T6 bulk soil sample controls for any direct microbial carbon fixation. Plant isotopic composition was determined on an Isoprime 100 isotope ratio mass spectrometer (Elementar, Langenselbold, Germany).
Stable isotope probing
To separate isotopically enriched DNA from unenriched DNA, each sample was separated based on density in a CsCl density gradient formed in an ultracentrifuge. Gradients were generated according to the method previously described [46]. Briefly, 5.5 μg of DNA was added to the gradient buffer to create a solution with a density of 1.735 g/mL. Then 5.2 mL of the solution was transferred to an ultracentrifuge tube (Beckman Coulter Quick-Seal, 13 × 51 mm). Tubes were spun in an Optima L-90K ultracentrifuge (Beckman Coulter, Brea, California, USA) using a VTi65.2 rotor at 44,000 rpm (176,284 RCFavg) at 20 °C for 109 h with maximum acceleration and braking of the rotor to maintain the integrity of the density separations. Then the content of the ultracentrifuge tube was separated into ~ 32 fractions using a syringe pump to deliver light mineral oil at 0.25 mL/min to displace the gradient solution from the pierced bottom of the tube. Each fraction was approximately 12 drops (~ 144 μL). The density of each fraction was measured using an AR200 digital refractometer (Reichert Inc., Depew, New York, USA). The DNA for each fraction was precipitated and quantified as previously described [46]. Fractions were then binned based on density and by comparison between the rhizosphere samples and the associated bulk soil (light = 1.692–1.737 g/mL; middle = 1.738–1.746 g/mL; heavy = 1.747–1.765 g/mL) (Additional file 5: Figure S3 and Additional file 1: Table S1).
Sequencing
Each fraction, light, middle, and heavy, was then sent to the UC Davis Genome Center DNA Technologies Core for sequencing. Each sample was sequenced using an Illumina HiSeq 3000 (Illumina Inc., Hayward, California, USA) with paired-end libraries prepared with the Kapa Hyper protocol and a read length of 150 bp.
Genome reconstruction, annotation, and analysis
Reads were trimmed using Sickle (https://github.com/najoshi/sickle); BBtools (https://sourceforge.net/projects/bbmap/) was used to remove Illumina adapters and trace contaminants; finally, reads were individually assembled using IDBA-UD (-step 20, -maxk 140, -mink 40) [47]. A single 1.45 Mb scaffold was recovered and was able to be circularized, then scaffolding errors and completeness were assessed as described in [1] and scaffolding gaps were fixed manually by mapping reads to the scaffold using Bowtie2 on default settings [48]. The scaffold was visualized in Geneious [49]. Genes were predicted using Prodigal [50]. Predicted ORFs were functionally described using a multidatabase search pipeline. Sequence similarity searches were performed with USEARCH [51] against UniRef100 [52], Uniprot [53], and the KEGG database [54]. Additional gene annotations were assigned using HMMs that were constructed based on KEGG Orthologies [54]. All the proteins assigned to a KO were clustered using MCL [55] with inflation parameter (-I) of 1.1, based on global percent identity. Clusters were aligned using MAFFT v7 [56], and HMMs were constructed using the HMMER suite [57]. Carbohydrate-active enzymes were identified using dbCAN [58]. Domain level functional annotations were done using InterProScan [59]. tRNAs were predicted using tRNAScan-SE [60], and cellular localization was predicted using PSORTb v3.0.2 with the gram-positive setting, which was demonstrated though previous imaging [4, 61]. Twin-arginine translocation signal peptide finding was done using TATFIND 1.4 [62]. The GC skew of the genome was calculated based on previously published tools [63]. Protein modeling was done with Swiss Model, Ndh modeling incorporated the protein from Caldalkalibacillus thermarum, and cytochrome bo3 ubiquinol terminal oxidase subunit I utilized a protein model from E. coli [33, 34, 64]. Representative Saccharibacteria 16S rRNA sequences were obtained from NCBI and aligned using ssu-align [65], then a maximum-likelihood tree was constructed with RAxML by using the GTRCAT model with 1000 bootstraps (Additional file 6: Figure S4).
Declarations
Acknowledgements
This work was made possible by samples and expertise provided by personnel at the Hopland Research and Extension Center (Hopland, CA, USA). Plant growth and labeling was conducted at the UC Berkeley Oxford Facility. Sampling efforts and technical expertise were provided by Katerina Estera-Molina. Sequencing was done at the UC Davis Genome Center and technical advice was provided by Lutz Froenicke. The HMM pipeline was developed by Dr. David Burstein and protein modeling assistance was provided by Dr. Cindy Castelle.
Funding
This research was supported by the U.S. Department of Energy Office of Science, Office of Biological and Environmental Research Genomic Science program under Awards DE-SC0010570 and DE-SC0016247 to MF and DE-SC10010566 to JB. AJP was supported by the German Science Foundation under DFG1603-1/1. ES was supported by a grant from the National Science Foundation Graduate Research Fellowships Program and the by the National Science Foundation CZP EAR-1331940 grant for the Eel River Critical Zone Observatory.
Authors' contributions
SS and MF designed the labeling experiment. SS and DH carried out the labeling. ES and SB conducted the density centrifugation. ES and JB analyzed the data, with input from AP. ES and JB wrote the manuscript and all authors read and approved the final manuscript.
Ethics approval and consent to participate
Not applicable.
Consent for publication
Not applicable.
Competing interests
The authors declare that they have no competing interests.
Publisher's Note
Springer Nature remains neutral with regard to jurisdictional claims in published maps and institutional affiliations.
Open AccessThis article is distributed under the terms of the Creative Commons Attribution 4.0 International License (http://creativecommons.org/licenses/by/4.0/), which permits unrestricted use, distribution, and reproduction in any medium, provided you give appropriate credit to the original author(s) and the source, provide a link to the Creative Commons license, and indicate if changes were made. The Creative Commons Public Domain Dedication waiver (http://creativecommons.org/publicdomain/zero/1.0/) applies to the data made available in this article, unless otherwise stated.
Authors' Affiliations
(1)
Department of Plant and Microbial Biology, University of California, Berkeley, USA
(2)
Lincoln Science Centre, AgResearch Ltd, Christchurch, New Zealand
(3)
Nuclear and Chemical Sciences Division, Lawrence Livermore National Laboratory, Livermore, USA
(4)
Biofilm Center, University of Duisburg-Essen, Essen, Germany
(5)
Department of Environmental Science, Policy, and Management, University of California, Berkeley, USA
(6)
Earth Sciences Division, Lawrence Berkeley National Laboratory, Berkeley, USA
(7)
Department of Earth and Planetary Science, University of California Berkeley, Berkeley, USA