Erratum to: Whole metagenome profiles of particulates collected from the International Space Station
Received: 23 August 2017
Accepted: 23 August 2017
Published: 1 September 2017
Following publication of the original article [
1
], the authors reported that the X-axis label was missing from Fig.
4
. The new Fig.
4
is attached.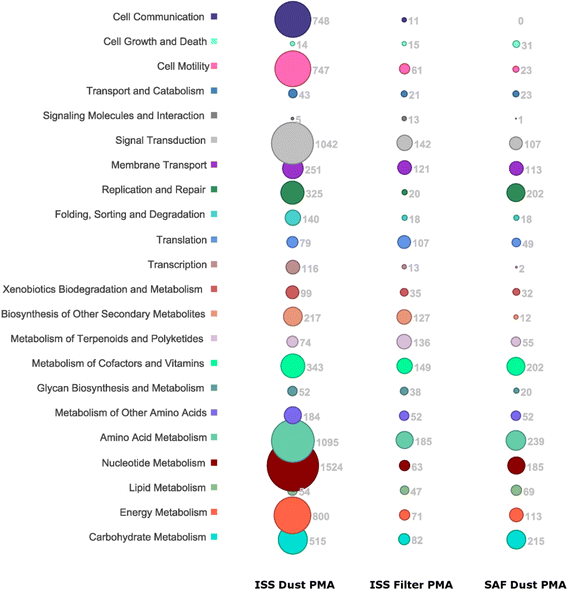 Open AccessThis article is distributed under the terms of the Creative Commons Attribution 4.0 International License (http://creativecommons.org/licenses/by/4.0/), which permits unrestricted use, distribution, and reproduction in any medium, provided you give appropriate credit to the original author(s) and the source, provide a link to the Creative Commons license, and indicate if changes were made. The Creative Commons Public Domain Dedication waiver (http://creativecommons.org/publicdomain/zero/1.0/) applies to the data made available in this article, unless otherwise stated.
(1)
Physical and Life Sciences Directorate, Lawrence Livermore NationalLaboratory, Livermore, CA, USA
(2)
Computation Directorate, Lawrence Livermore National Laboratory, Livermore, CA, USA
(3)
Biotechnology and Planetary Protection Group, Jet Propulsion Laboratory, California Institute of Technology, M/S 89-2, 4800 Oak Grove Dr, Pasadena, CA 91109, USA
(4)
Present Address: Department of Ecology, Evolution and Organismal Biology, Iowa State University, Ames, IA, USA
Be NA, Avila-Herrera A, Allen JE, Singh N, Sielaff AC, Jaing C, Venkateswaran K. Microbiome. 2017;5:81. doi:10.1186/s40168-017-0292-4.