Strong spurious transcription likely contributes to DNA insert bias in typical metagenomic clone libraries
Received: 9 December 2014
Accepted: 1 May 2015
Published: 20 May 2015
Abstract
Background
Clone libraries provide researchers with a powerful resource to study nucleic acid from diverse sources. Metagenomic clone libraries in particular have aided in studies of microbial biodiversity and function, and allowed the mining of novel enzymes. Libraries are often constructed by cloning large inserts into cosmid or fosmid vectors. Recently, there have been reports of GC bias in fosmid metagenomic libraries, and it was speculated to be a result of fragmentation and loss of AT-rich sequences during cloning. However, evidence in the literature suggests that transcriptional activity or gene product toxicity may play a role.
Results
To explore possible mechanisms responsible for sequence bias in clone libraries, we constructed a cosmid library from a human microbiome sample and sequenced DNA from different steps during library construction: crude extract DNA, size-selected DNA, and cosmid library DNA. We confirmed a GC bias in the final cosmid library, and we provide evidence that the bias is not due to fragmentation and loss of AT-rich sequences but is likely occurring after DNA is introduced into Escherichia coli. To investigate the influence of strong constitutive transcription, we searched the sequence data for promoters and found that rpoD/σ70 promoter sequences were underrepresented in the cosmid library. Furthermore, when we examined the genomes of taxa that were differentially abundant in the cosmid library relative to the original sample, we found the bias to be more correlated with the number of rpoD/σ70 consensus sequences in the genome than with simple GC content.
Conclusions
The GC bias of metagenomic libraries does not appear to be due to DNA fragmentation. Rather, analysis of promoter sequences provides support for the hypothesis that strong constitutive transcription from sequences recognized as rpoD/σ70 consensus-like in E. coli may lead to instability, causing loss of the plasmid or loss of the insert DNA that gives rise to the transcription. Despite widespread use of E. coli to propagate foreign DNA in metagenomic libraries, the effects of in vivo transcriptional activity on clone stability are not well understood. Further work is required to tease apart the effects of transcription from those of gene product toxicity.
Keywords
MetagenomicsCosmidFosmidCloning biasGC biasMetagenomic libraries E. coli hostSpurious transcriptionSigma 70
Background
Clone libraries can be generated using a range of source material, from the DNA of a single organism to the DNA from environmental sources representing often complex microbial communities. Libraries generated from microbial communities are called metagenomic libraries, and they have been central to a powerful methodology contributing to understanding the diversity of microbial communities, expanding the knowledge of gene function, and mining for novel sequences encoding functions of interest. These activities all fall under the umbrella of functional metagenomics and require cloning the DNA, typically using low-copy vectors such as cosmids or fosmids. Cloned DNA is typically propagated in Escherichia coli, and if the vector host range allows, the DNA can subsequently be transferred to other surrogate hosts that may be more suitable for heterologous expression.
The general assumption in cloning-based metagenomic approaches is that foreign DNA can be stably maintained in E. coli and that the cloned DNA is a fair representation of the original sample. However, it has been previously observed that fosmid libraries exhibit a GC bias [1, 2]. In general, such cloning biases may affect conclusions derived from analysis of the clone libraries. The observed GC bias of fosmid libraries was suggested to be due to fragmentation and subsequent loss of AT-rich sequences during the cloning process, purportedly because AT-rich sequences have fewer hydrogen bonds which makes them more vulnerable to non-perpendicular shear forces [1]. Other possible reasons for the bias in libraries include transcriptional activity of the cloned DNA [3] as well as toxicity from expressed genes [4, 5]. Though the exact mechanism(s) by which GC bias occurs has not yet been fully elucidated, the fragmentation explanation has been echoed by others [6, 7] despite being purely speculative and lacking experimental support. Indeed, in our experience, extracting high-molecular-weight genomic DNA from low-GC organisms is no more difficult than from E. coli. We have previously constructed genomic libraries in cosmid vectors using DNA from Bacteroides thetaiotaomicron and Bacteroides fragilis (both ~43 % GC) with no difficulties obtaining high-quality DNA [8]. Furthermore, we have observed that on occasion, cosmid clones from metagenomic libraries appear to have suffered insert loss, which we discuss in greater detail in the "Results and discussion" section below. Therefore, it seemed to us that the suggestion by Temperton et al. [1] that the GC bias in cosmid/fosmid libraries might be due to fragmentation of AT-rich sequences was unlikely to be true; rather, we believe that events occurring in vivo may be contributing substantially to the sequence bias of libraries.
We investigated the nature of this GC bias, to characterize whether, and by what mechanism, biases may be introduced into our own cosmid libraries. In particular, we wished to determine if fragmentation was a major cause of bias, or if there is evidence that the bias was indeed occurring in vivo. To answer this question, we constructed a cosmid library using DNA isolated from pooled human fecal samples, saving a portion of the DNA from three steps of the library construction process: (1) the crude extract DNA, (2) the size-selected DNA, and (3) the cloned DNA from the constructed cosmid library (Fig.
1
). The DNA samples were sequenced and the resulting datasets were analyzed to investigate if, where, and how any bias may have been introduced. Consistent with the aforementioned studies, we observed GC bias in our constructed cosmid library. However, our results indicate that fragmentation of DNA does not cause any significant bias; rather, our results are consistent with the hypothesis that the bias occurs after DNA is introduced into the
E. coli
host.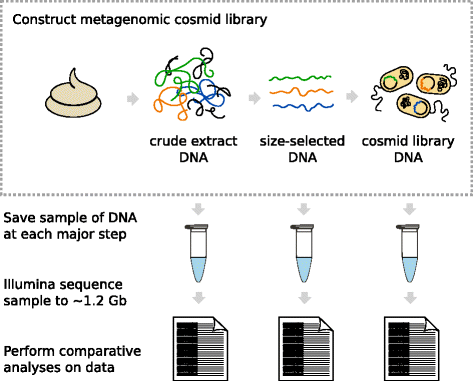 Conclusions
The results presented in this report and what was already known from the literature together support the hypothesis that GC bias in typical clone libraries (that is, using circular vectors) is related to constitutive promoter activity of the insert in E. coli, although DNA topology as well as toxic protein effects may also influence insert and plasmid maintenance. In our analyses, we have focused only on would-be strong constitutive promoters in E. coli (σ70/rpoD consensus sequences) because there is evidence that high-level transcription may have negative effects. It is important to acknowledge, however, that functional metagenomic approaches rely on E. coli (or other hosts) being able to transcribe and translate foreign DNA, in order to identify fragments encoding functions of interest. This ability of E. coli to initiate low-level transcription from diverse sources [46] and to be able to produce foreign proteins has been immensely advantageous for functional metagenomics and likely has contributed to the general assumption that E. coli is tolerant of foreign DNA, whether it expresses it or not. Our work, however, suggests that more careful consideration of cloning strategies may be required.
Currently, there are three outstanding questions: (1) to what extent does transcription contribute to metagenomic library bias, (2) what factors affect whether transcription will be problematic, and (3) how can transcriptional effects be minimized so that DNA can be faithfully maintained in E. coli. An important consideration may be the likelihood of an rpoD consensus sequence being cloned on any given fragment from a genome or metagenome. As an example, let us consider Ruminococcus bromii, which was one of the most highly abundant species in the original sample but became nearly absent in the cosmid library according to our analyses (~7 versus ~0.01 %, respectively; see Additional file 2: Table S1). R. bromii has a genome size of 2.25 Mb; theoretically, its genome can be represented in ~80 fragments if we consider that the average fragment in the particular cosmid library discussed here is ~28 kb (data not shown). Given that there were 77 rpoD consensus sequences identified in its genome (Additional file 4: Table S2), potentially many fragments could include a sequence that behaves as a strong, constitutive promoter in E. coli. We acknowledge that although our work supports the hypothesis that constitutive transcription contributes to library bias, more concrete evidence is required to confirm this hypothesis.
If strong transcription from the insert into the vector backbone contributes in part to the observed cloning bias—affecting the origin of replication, for example—it may be helpful to use vectors that include transcriptional terminators flanking the cloning site. We are currently investigating the extent to which transcriptional terminators alleviate the cosmid library sequence bias, which may help tease apart the issue of transcription from that of gene product toxicity. While it is generally recognized that different expression hosts are needed for functional screening [45, 47–52], it is not as widely acknowledged that using E. coli as the sole cloning host for metagenomic DNA itself may be quite limiting due to the potential lack of sample representativeness from the outset. It is interesting that despite decades of using E. coli as "the workhorse of molecular biology," there is still much left to discover about how it tolerates exogenous DNA, which should serve as a reminder to us of how necessary it is to continually re-evaluate even our most basic methodological assumptions, particularly when they concern the inner workings of the cell.
Abbreviations
CE:

crude extract
SS:

size-selected
CL:

cosmid library
F:

forward reads
R:

reverse reads
Declarations
Acknowledgements
We thank the seven anonymous individuals who donated fecal samples for the construction of the CLGM1 cosmid library. We are grateful to the Shared Hierarchical Academic Research Computing Network (SHARCNET: www.sharcnet.ca) and Compute/Calcul Canada for computing resources. Research funding was provided by a Strategic Projects Grant (381646–09) from the Natural Sciences and Engineering Research Council of Canada, by Genome Canada for the project "Microbial Genomics for Biofuels and Co-Products from Biorefining Processes" (MGCB2), and by a University of Waterloo CIHR Research Incentive Fund. KNL was supported by a CGS-D scholarship from the Canadian Institutes of Health Research.
Authors' Affiliations
(1)
Department of Biology, University of Waterloo, Waterloo, Canada
Copyright
© Lam and Charles. 2015
This is an Open Access article distributed under the terms of the Creative Commons Attribution License (http://creativecommons.org/licenses/by/4.0), which permits unrestricted use, distribution, and reproduction in any medium, provided the original work is properly credited. The Creative Commons Public Domain Dedication waiver (http://creativecommons.org/publicdomain/zero/1.0/) applies to the data made available in this article, unless otherwise stated.