16S rRNA gene pyrosequencing of reference and clinical samples and investigation of the temperature stability of microbiome profiles
Received: 15 April 2014
Accepted: 29 July 2014
Published: 16 September 2014
Abstract
Background
Sample storage conditions, extraction methods, PCR primers, and parameters are major factors that affect metagenomics analysis based on microbial 16S rRNA gene sequencing. Most published studies were limited to the comparison of only one or two types of these factors. Systematic multi-factor explorations are needed to evaluate the conditions that may impact validity of a microbiome analysis. This study was aimed to improve methodological options to facilitate the best technical approaches in the design of a microbiome study. Three readily available mock bacterial community materials and two commercial extraction techniques, Qiagen DNeasy and MO BIO PowerSoil DNA purification methods, were used to assess procedures for 16S ribosomal DNA amplification and pyrosequencing-based analysis. Primers were chosen for 16S rDNA quantitative PCR and amplification of region V3 to V1. Swabs spiked with mock bacterial community cells and clinical oropharyngeal swabs were incubated at respective temperatures of -80°C, -20°C, 4°C, and 37°C for 4 weeks, then extracted with the two methods, and subjected to pyrosequencing and taxonomic and statistical analyses to investigate microbiome profile stability.
Results
The bacterial compositions for the mock community DNA samples determined in this study were consistent with the projected levels and agreed with the literature. The quantitation accuracy of abundances for several genera was improved with changes made to the standard Human Microbiome Project (HMP) procedure. The data for the samples purified with DNeasy and PowerSoil methods were statistically distinct; however, both results were reproducible and in good agreement with each other. The temperature effect on storage stability was investigated by using mock community cells and showed that the microbial community profiles were altered with the increase in incubation temperature. However, this phenomenon was not detected when clinical oropharyngeal swabs were used in the experiment.
Conclusions
Mock community materials originated from the HMP study are valuable controls in developing 16S metagenomics analysis procedures. Long-term exposure to a high temperature may introduce variation into analysis for oropharyngeal swabs, suggestive of storage at 4°C or lower. The observed variations due to sample storage temperature are in a similar range as the intrapersonal variability among different clinical oropharyngeal swab samples.
Keywords
Human Microbiome Project
Mock Community
Quantitative Insight Into Microbial Ecology
Microbiome Profile
Storage Temperature Condition
Background
Bacteria are the most abundant and genetically diverse organisms, which ubiquitously inhabit the environment including many extremely adverse environments. Billions of bacteria exist in various locations on the human body as either commensal microbial flora, transient dwellers, or even opportunistic pathogens capable of causing acute or chronic infections[1–10]. The importance of healthy microbiota for human well-being and the association between human microbiome and diseases have been shown in various studies, including colon cancer[11–13], obesity[14, 15], and type II diabetes[16, 17].
The use of advanced high-throughput techniques, such as microarrays and next-generation sequencing (NGS), has led to an explosive accumulation of research data and has vastly improved our understanding of the microbial world[7, 18, 19]. The Human Microbiome Project (HMP) funded by the National Institutes of Health has produced critical baseline information on healthy human microbiota and has also added a variety of metagenomics laboratory protocols and bioinformatics tools (http://www.hmpdacc.org)[5, 20]. For metagenomics studies based on 16S ribosomal RNA gene (rDNA) sequencing, reliable procedures for sample collection, nucleic acid extraction, PCR amplification, amplicon sequencing, and data analysis are critical for the accuracy and resolution of quantitative and comparative study on microbial communities[18, 21, 22]. There have been reports on characterization of reference metagenomics materials and comparison of specimen storage conditions and optimization of methods[23–27]. However, most published studies were limited to the comparison of variable conditions of only one or two types of these factors. Systematic explorations of multiple factors are needed to evaluate the conditions that may impact validity of a microbiome analysis. In this study, we used the mock bacterial community genomic DNA samples and the mock bacterial community cells, both of which originated from the HMP[5, 27, 28], to test laboratory and data analysis procedures that will be applied to a population study of human respiratory microbiomes. Moreover, this pilot study was developed specifically to evaluate technical options which have not been investigated. Swabs spiked with the mock community bacterial cells and the clinical throat swabs from healthy human subjects were stored at four different temperatures for 4 weeks and sequenced to assess the durability of the microbiome profile over time and at various storage temperatures.
Methods
Microbial mock communities
Three microbial mock community materials (Figure
1
) were obtained from Biodefense and Emerging Infectious Research (BEI) Resources of the American Type Culture Collection (ATCC) (Manassas, VA, USA), including microbial mock community A cells (BEI catalog number HM-280), a cell mixture of 22 different bacterial strains with equal colony-forming unit (cfu) for each organism; a mixture of genomic DNA from 21 bacterial strains (BEI catalog number HM-278D), i.e., all species but
Bifidobacterium adolescentis
of the microbial mock community A, containing equal molar (even) of rRNA operon counts for each organism; and a mixture of genomic DNA from 21 bacterial strains containing rRNA operon counts different by up to 1,000-fold (staggered) (BEI catalog number HM-279D).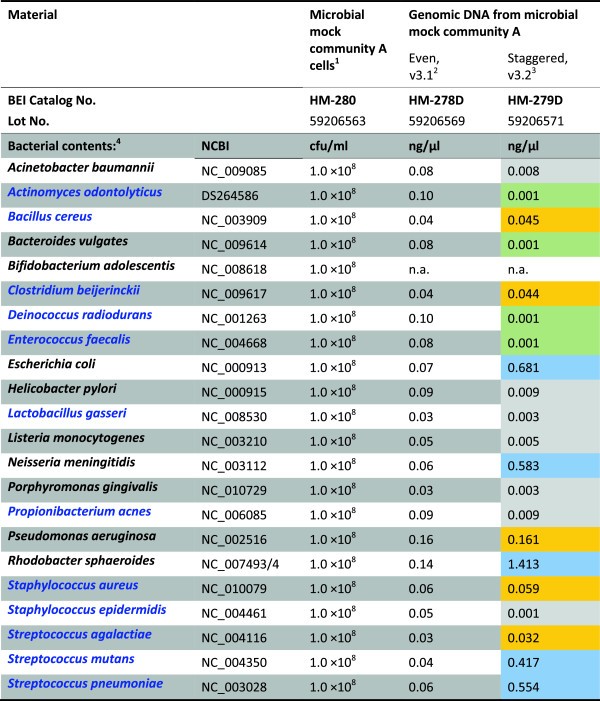 HM-280 was diluted to a final volume of 5 ml by adding 4 ml of phosphate-buffered saline (PBS) to 1 ml of HM-280. The final bacterial cell concentration was approximately 4.4 × 105 cfu/μl. Forty microliters of this cell suspension was spiked on each Copan flocked swab, FLOQSwab tube 560C (COPAN Diagnostics Inc., Murrieta, CA, USA). Each swab was returned to the tube, recapped, and stored dry without using any storage solution. Forty-eight spiked swabs were made to investigate storage temperatures, microbiome stability upon storage, and extraction methods (Additional file1: Figure S1). Triplicate swabs were made for each condition. The swabs were randomly divided into four groups, then incubated under four different temperatures (37°C, 4°C, -20°C, or -80°C), respectively, for 4 weeks.
Collection and storage of clinical swabs
The clinical specimens used in this study were obtained under the terms of a human use protocol (WRAIR#1913), approved by the Walter Reed Army Institute of Research Institutional Review Board in compliance with all US federal regulations governing the protection of human subjects. Written, informed consent was obtained from the participants. Healthy young volunteers were recruited for the study. Four different regions of the oropharynx, upper right, upper left, lower right, and lower left, were swabbed using Copan flocked swabs. Each swab from each of the eight individuals was recapped and stored under four different temperatures (37°C, 4°C, -20°C, or -80°C), respectively, for 4 weeks.
DNA extraction from the swabs
After incubation, the swabs were extracted using one of the two DNA extraction methods, PowerSoil DNA Isolation Kit (MO BIO Laboratories, Inc., Carlsbad, CA, USA) and DNeasy Blood & Tissue Kit (Qiagen, Germantown, MD, USA). In brief, for extraction using the PowerSoil DNA Isolation Kit, the swab tip was cut into a PowerBead tube containing 0.7-mm garnet beads using a clean blade and extracted according to the instruction manual. Bead beating for 3 min on Mini-Beadbeater-16 (BioSpec, Bartlesville, OK, USA) was used to facilitate cell lysis. Alternatively, DNeasy Blood & Tissue Kit was used to purify DNA from the swab. Prior to DNeasy extraction, the swab tip was cut into a clean microfuge tube and subjected to enzymatic lysis of bacterial cells as follows: 450 μl of pre-chilled enzymatic lysis buffer containing 1 mg/ml lysozyme (L6876, Sigma, St. Louis, MO, USA); 0.1 mg/ml lysostaphin (L9043, Sigma); 20 mM Tris-HCl, pH 8.0; 2 mM EDTA; and 1 mM DTT were added and mixed by shaking at 1,400 rpm for 1 min. The tube was incubated at 37°C for 60 min. Then 25 μl of Proteinase K solution (10 mg/ml, Qiagen) and 500 μl of Buffer AL of DNeasy kit were added and mixed again at 1,400 rpm for 1 min, followed by incubation at 56°C for 2 h. After vigorous mixing via a vortexer or the beadbeater, the solution was collected and centrifuged at 13,000×g for 1 min. The supernatant was then processed by following the protocol in the DNeasy handbook to purify the total DNA.
Quantitative PCR for 16S rDNA, amplification, and pyrosequencing of 16S rDNA region V3 to V1
The purified total DNA samples were subjected to a real-time PCR assay to assess the nucleic acid extraction yield. Primers and TaqMan probe (Figure
2
) were designed to target conserved sequences around the variable region 3 (V3) of bacterial 16S rDNA. Genomic DNA of
Staphylococcus aureus
strain TCH70 (HM-139D, BEI) and primers 27F1 and 1487R (Figure
2
) were used to generate the 1.5-kb 16S rDNA amplicon which was subsequently cloned into vector pCRII-TOPO (Invitrogen, Carlsbad, CA, USA). The plasmid was used as a standard for the quantitative PCR (qPCR) using Taqman Universal Master Mix II (Invitrogen) to determine 16S rDNA copy number in DNA samples. PCR fusion primers LB-27F2 and LARL-533R for amplification and barcoding of the 16S rDNA region from its variable region V3 to V1 were designed following the HMP protocol with modification (Figure
2
). The choice of the most conserved 16S rDNA sequences for qPCR or PCR primers and the use of degenerate bases were made by using the command line version of Primer3 software[
29
] installed on a local Linux server and published literature and resources[
29
–
33
]. The specificity/universality of candidate primers to 16S rDNA sequences was tested using the Ribosomal Database Project (RDP) probematch utility (
http://rdp.cme.msu.edu/probematch/search.jsp
)[
34
]. Optimization of primer specificity/universality was conducted by using one or two degenerated bases. The primers were tested using the greengenes probe locator tool (
http://greengenes.lbl.gov/cgi-bin/nph-probe_locator.cgi
) to determine where and which degenerated bases to be used. The modified primers were subsequently retested using the RDP probematch utility to verify the improvement. Furthermore, free energy calculations were performed using the Quickfold program from the DINAMelt Web server (
http://mfold.rna.albany.edu/?q=DINAMelt/Quickfold
) to eliminate primers that form stable 2D structures. For the final choice of primers for qPCR or PCR for producing sequencing amplicons, forward primers and reverse primers were paired manually based on the desired amplicon length and keeping the melting temperature (
T
m
) difference between the two primers within 5°C.

The PCR procedure for generation of 16S V3–V1 amplicons was the same as in the HMP protocol[35], except that the PCR cycle number was set based on the Ct value from the 16S qPCR assay. Rather than using a fixed 30-cycle PCR for every sample, a cycle number of 20, 25, or 30 was chosen for each sample individually, based on the Ct value of a sample. The amplicons were purified using Qiagen's QIAquick 96 PCR purification kit, quantified using Quant-iT PicoGreen dsDNA assay (Invitrogen), and then pooled together at equal molar ratio. The pool of the amplicons was subjected to agarose gel size selection by electrophoresis using SizeSelect 2% E-Gel (Invitrogen), recovering the fraction in the size range of 500–1,000 bp using the disposable x-tracta gel extraction tool (Sigma). The amplicons were recovered by using QIAquick gel extraction kit, followed by DNA quantitation and quality examination using 2100 Bioanalyzer and the High Sensitivity DNA Assay kit (Agilent Technologies, Santa Clara, CA, USA). The final amplicon preparation products were used in emulsion PCR via Roche GS Lib-L LV kit (454 Life Sciences Corporation, Branford, CT, USA) with the use of molecules-per-bead ratio of 0.83 and 57.5 μl of amplification primer mix in the 3,915 μl reaction mix. The emulsion PCR, library bead purification, and sequencing on Roche 454 GS FLX+ system were performed by following the manufacturer recommended protocols.
Pyrosequencing data processing and taxonomic classification
A data analysis workflow based on the Quantitative Insights Into Microbial Ecology (QIIME) pipeline was implemented (Figure
3
)[
36
]. Pyrosequencing data sff file was demultiplexed with the barcode mismatch tolerance of one base for the 11-base Molecular Identifier (MID) tags. Raw reads were subjected to a quality filtering procedure in the following consecutive steps: terminal trimming to remove N from the 3′-end of the raw reads, removal of reads that are smaller than 200 bases or larger than 1,000 bases, removal of reads that have homopolymer eight bases or longer, removal of reads that contain more than one error in the 16S primer 539R sequence, read trimming to remove primer and linker sequences, sliding window trimming with a window width of 50 bases to remove the terminal sequence within the window with an average quality score below 25. Chimera filtering was performed afterwards using the UCHIME algorithm by either reference-based or
de novo
method[
37
]. Reads that were classified as chimeric by both methods were removed. Finally, singleton reads were excluded from further analysis. For bacterial taxonomic classification, the quality processed reads were subjected to analysis using the QIIME pipeline run by Python programs. The workflow included open-reference clustering of sequences into operational taxonomic units (OTUs) using the UCLUST tool. The sequence identity level was set at 97%, which corresponds to a commonly used bioinformatics definition of the bacterial species based on the 16S rRNA gene. The read clusters were further assigned to taxonomies using the RDP classifier with the confidence level of 80%[
34
]. The microbial profiles obtained after this step contained various hierarchical levels of taxonomy classification, and their positions in the taxonomy were used to assess diversity for each community. In the statistical analyses, the reads assigned to taxonomy levels below the genus level were mapped to the corresponding genus level for further evaluation of statistical significance at the genus level.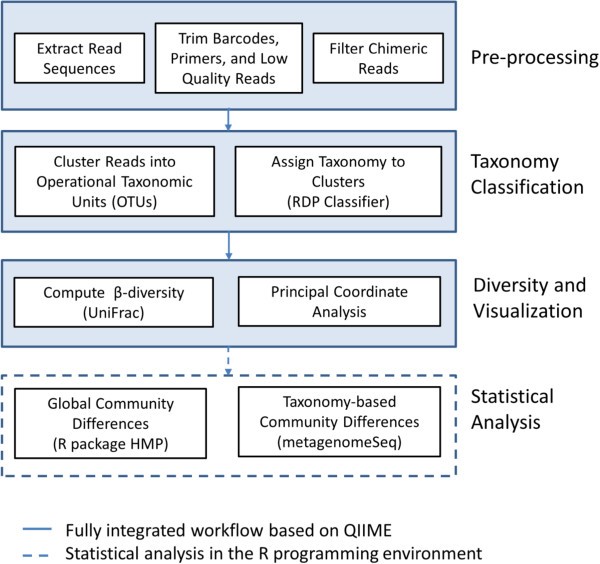 Microbiome diversity estimation and statistical analysis
The genus-level microbiome profiles from QIIME/RDP analysis were used to evaluate the microbial community diversity within a sample (α-diversity) and the diversity between samples (β-diversity). Tools for variability analysis in QIIME, including the comparison of abundance of microbial taxa present in the samples, weighted UniFrac measure, and the multidimensional principal coordinate analysis (PCoA), were used[38]. Two recently proposed methods were collaboratively used for multinomial statistical analysis of the microbiome data. The statistical analysis consisted of three steps: (1) for each microbiome community, use the R statistical software package for HMP (HMP-R) by La Rosa et al.[39, 40] to test the underlying probabilistic model based on the Dirichlet multinomial (DM) distribution and to determine the DM parameters, proportions, and dispersion[39]; (2) use the HMP-R to perform hypothesis testing of overall significant differences between communities; and (3) use the R software package metagenomeSeq to determine OTUs that are statistically different in the two communities[41, 42].
Conclusions
In this study, we performed systematic and comprehensive characterization of three HMP reference materials from BEI Resources. Moreover, the mock bacterial community and oropharyngeal swabs from healthy individuals were used to investigate the temperature stability of the microbial community structure. The standard HMP procedure was optimized to include sequence modification of 16S rDNA primers for improved amplification of the V1–V3 region to increase coverage of bacterial 16S sequences in database, and the use of PCR cycle number related to 16S gene copy number in DNA extract to avoid over-amplification and to obtain PCR products with concentrations close to each other from samples with highly different concentrations. Pyrosequencing data of samples extracted by using the two popular methods, Qiagen DNeasy with enzymatic bacterial lysis and MO BIO PowerSoil with bead beating, are statistically different, however lead to consistent conclusions. The results for the even mock community DNA are consistent with a previous HMP report, with improvements which may be attributed to the technical changes. The temperature stability study using the assembled bacterial community suggests that the microbial community structure is stable at low temperature and may change significantly when incubated in high temperature. For studies on environmental factors on the change of microbiome, it would be important to avoid temperature-induced microbiota profile changes for clinical samples. Further investigation using clinical oropharyngeal swabs suggests that the temperature effect on clinical respiratory samples is similar to the effect of intrapersonal sampling variability, though careful estimation is still needed to ensure that the impact caused by temperatures in handling the samples is properly taken into account during data interpretation.
Availability of supporting data
All sequence data used in the analyses were deposited in Sequence Read Archive (SRA) (http://www.ncbi.nlm.nih.gov/sra) under BioProject PRJNA254831 and SRA accession number SRP044778. Sample IDs, sample information, and basic statistics about the sequences are summarized in Additional file5: Table S4.
Abbreviations
16S rDNA:

16S ribosomal RNA gene
cfu:

colony-forming unit
DM:

Dirichlet multinomial
HMP-R:

R statistical software package for HMP
HMPm:

Human Microbiome Project
NGS:

next-generation sequencing
OTUs:

operational taxonomic units
PBS:

phosphate-buffered saline
PCoA:

principal coordinate analysis
QIIME:

Quantitative Insights Into Microbial Ecology
RDP:

Ribosomal Database Project
rRNA:

ribosomal RNA.
Declarations
Acknowledgements
We would like to thank the anonymous volunteers from WRAIR for contributing samples to the study. We thank Drs. Jaques Reifman, Leonard N. Binn, Nicholas J. Steers, Paul B. Keiser, and Richard C. Ruck for the technical support and critical reading of the manuscript. We acknowledge there are a large number of recent publications addressing methodology aspects of metagenomics. We apologize to the authors who published their works that are related to this study but were not cited here.
This work was supported by the Military Infectious Diseases Research Program (MIDRP)/Defense Health Program enhancement (DHPe)/Defense Medical Research and Development Program (DMRDP) of the Department of Defense (DoD) and the Global Emerging Infections Surveillance and Response System (GEIS), a Division of the Armed Forces Health Surveillance Center.
Copyright statement
Some of the authors are military service members or employees of the US Government. This work was prepared as part of their official duties. Title 17 U.S.C. §105 provides that 'Copyright protection under this title is not available for any work of the United States Government.' Title 17 U.S.C. §101 defines a US Government work as a work prepared by a military service member or employee of the US Government as part of that person's official duties.
Disclaimers
The opinions expressed in this work are those of the authors and do not reflect the official policy or position of the Department of the Army, DoD, or US government.
Authors' Affiliations
(1)
Viral Diseases Branch, Walter Reed Army Institute of Research, Silver Spring, USA
(2)
Department of Defense Biotechnology High Performance Computing Software Applications Institute, Telemedicine and Advanced Technology Research Center, US Army Medical Research and Materiel Command, Fort Detrick, USA
(3)
Infectious Diseases Service, WRNMMC, Bethesda, USA
(4)
Qiagen Sciences Inc, Frederick, USA
Copyright
© Hang et al.; licensee BioMed Central Ltd. 2014
This article is published under license to BioMed Central Ltd. The article is a work of the United States Government; Title 17 U.S.C 105 provides that copyright protection is not available for any work of the United States government in the United States. Additionally, this is an open access article distributed under the terms of the Creative Commons Public Domain Dedication waiver (http://creativecommons.org/publicdomain/zero/1.0), which permits worldwide unrestricted use, distribution, and reproduction in any medium for any lawful purpose.